Buddy Benches Encourage New Friendships at Olde Providence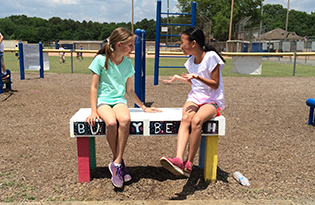 Girls on the Run at Olde Providence Elementary is making it a little easier for students to find a pal.
Encouraged by school counselor Sarah Crist and principal Beth Wardy, the GOTR team sanded, painted and decorated three benches, one for each playground. The team made posters, videos, and announcements for the school news to promote the use of the buddy benches with the hope that if a student needs a friend, he or she can sit on the buddy bench and then another student can make his or her way to say hello and chat.
GOTR at Olde Providence Elementary is a physical activity-based youth development program for girls in third to fifth grades that inspires girls to define their lives on their own terms, build confidence and celebrate what makes them unique.