Bubble Art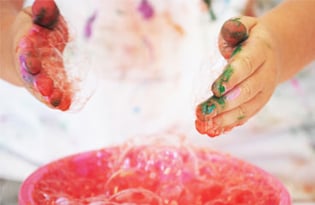 Cooler Fall weather signals the reminder that soon kids will be spending most of their time indoors, shuffling around the house on Saturday mornings in their footie PJs and inventing faster, more permanent ways to stain the carpet.
While the weather is still nice, this classic art project is perfect to set up outside on the patio with a few friends!  It involves lots of things that kids are normally not allowed to do ~ which automatically makes it really fun ~ like blowing bubbles on purpose and splashing around in a bowl of suds-y, paint-y water!  And when they're done with that good clean fun, they can take a bubble wand and chase colorful bubbles around the yard while you're sorting through a stack of really cool commissioned prints to send as gifts to the grandparents!


You Need:
• Small bowls or shallow pans (like pie tins)
• Dish detergent or a jar of bubbles
• Non-toxic liquid water color, tempera paint, or food coloring
• Straw
• Heavyweight, absorbent paper such as watercolor paper
To Do:
• First have kids practice blowing vs. sucking air with their straws (particularly important for the younger ones, which, by the way, we don't recommend this project for kids under the age of three). You'll see what we mean.

• Place a little bit of water in the bowl or pan and a few drops of soap or bubbles.  You can add a little more if there are not enough bubbles.
• Add a little coloring and blow bubbles until they rise an inch or so above the top of the bowl.  Let the kids go a little crazy and have a contest to see who can accumulate the most gravity-defying wave of bubbles.
• Gently place a piece of paper on the top of the bowl to transfer the bubble print.
• Add other colors to the soapy water and repeat either on the same piece of paper or a new one! 
Small Hands Big Art is an art studio in South Charlotte that offers classes, camps, & parties for children & young adults.
8025 Ardrey Kell Rd.
Charlotte, NC 28277
704.246.8271
www.smallhandsbigart.com