Breakfast Casserole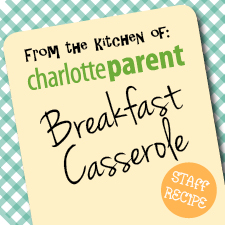 My mom has made this tasty sausage casserole every Christmas morning since I was a child. Looking forward to keeping this recipe alive for generations to come!
Ingredients:
12 slices extra thin white bread
Butter
1 lb. Neese's Hot Sausage
1 (6 oz.) pkg. sliced Swiss Cheese
4 eggs
3 cups milk
Preparation:
Trim crust from bread and lightly butter. Brown sausage and drain well. Place 6 slices bread in a 3-quart casserole, buttered side up. Spread half the sausage and cheese over bread. Place the other 6 slides of bread on top, followed by the rest of the sausage and cheese. Lightly beat together eggs and milk. Pour over sausage mixture.
Cover and refrigerate overnight. Take foil off and bake for 1 hour at 350 degrees.
6 servings.