Boost Your Teen's Self-Esteem & Self-Image by Treating Their Acne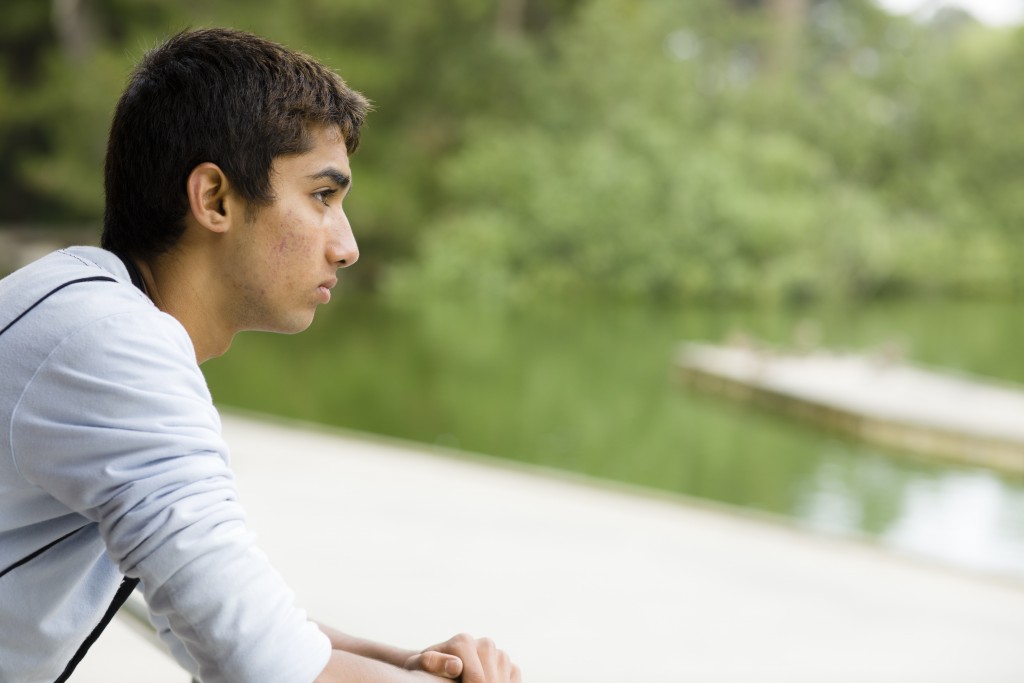 Boost Your Teen's Self-Esteem & Self-Image by Treating Their Acne
Acne during pre-teen and teenage years can have long-term effects on confidence. Here's how to treat it correctly so your child can regain confidence during his or her most formative years.
Acne. Ugh. It's a word even the most confident teenagers hate to mutter. It's distracting. It's embarrassing. It hurts. And it can scar for life—both emotionally and physically.
Acne can affect both pre-teens and teens, regardless of hereditary influence, face-washing frequency, or hormone levels. The truth is, acne can be an inevitable part of your middle schooler or high schooler's life, and ignoring it or brushing it off will only hurt your child's chances of developing rock-solid self-confidence during these formative years.
"These pimples can be a disaster for them," Michael Redmond, M.D., says, "just for the self-image and self-esteem."
Dr. Redmond has been practicing dermatology for 37 years and is currently treating patients of all ages in the Lake Norman office of Sona Dermatology & MedSpa. He's so passionate about his field of work that he tells Charlotte Parent that he has "no intention to retire."
Dr. Redmond began his dermatology residency in the late '70s when acne treatment modalities were more limited than they are today. "We didn't have good answers for very severe acne," he says. "When I was a resident, teens would be hospitalized for treatment of extremely severe face and body acne."
Luckily, though, modern medicine has provided many more solutions for the treatment of confidence-crushing acne. The Sona dermatologist says today's acne treatments—both over-the-counter and dermatologist-prescribed—are getting "better and better every day."
Dr. Redmond tells parents what they need to know to treat their pre-teen or teen's acne in 2019.
Acne starts sooner than it used to
The age range for kids being affected by acne has widened in recent years, according to the dermatologist.
"Children are maturing sooner now. The menstrual cycle is occurring earlier and earlier," Dr. Redmond says. "I've seen children as young as eight years old start to develop acne. Usually, it's a little later. It starts anywhere from about eight and just keeps on going. Alternatively, on occasion, I see teenagers that don't have the onset of acne until they turn 18. There is a wide range for acne to begin during this period of life."
Not treating acne leads to skin problems in adulthood
Dr. Redmond says it's common for parents to believe acne is just a stage kids go through, or that acne is just a rash, or that acne will go away on its own. While puberty may just be a stage of life, that doesn't mean the acne will not have effects on your child's skin long after the growing stage stops.
"Kids can get significant scarring that can usually be avoided with early treatment," he says. "When they're 30, [today's teens] will look back and wonder, 'Why didn't my parents do something?'"
Dr. Redmond says one of the main reasons parents should look into treating their child's acne is to prevent scarring. Pimples can become inflamed nodules, Dr. Redmond explains, which "can cause really serious scarring and can be really painful." Additionally, untreated acne during younger years can lead to skin pigmentation issues as an adult.
Which over-the-counter remedy to use
Don't think your teen's acne is severe enough for a trip to the dermatologist? Dr. Redmond has a couple of suggestions for at-home treatment.
"Everybody needs to wash their face twice-a-day," he urges. As for over-the-counter medications, "One of our favorites is benzoyl peroxide. It goes all the way in strength from 2.5% up to 10%, however, some people are really irritated by it. For an over-the-counter solution, the lower range of 5% or less is a good starting point. Otherwise, you cause too much irritation."
If this medication does not seem to be helping the acne, that's when Dr. Redmond suggests using a prescription product that is more tailored to your teen's specific skin needs.
How a dermatologist can help
Because everyone's skin is different, it helps to have a dermatologist such as Dr. Redmond in Sona's Lake Norman office, or Dr. Chambers in Sona's Ballantyne office, to diagnose your teen's specific skin issues. For example, sensitive skin may not react well to the OTC benzoyl peroxide. Oily skin might need a stronger solution, whereas dry skin could require a combination solution that doesn't make the face too flaky.
"If you have a lot of little blackheads and whiteheads," Dr. Redmond says, "a retinoid product is generally beneficial." Retinoids are derivatives of Vitamin A and one of the mainstays of treatment.
"If a person has a more oily complexion," he recommends, "we start out, gradually, every other night, with a combination product containing adapalene paired with benzoyl peroxide. Most people will adapt to its continued use."
"One of the things I like about the combination products is," he says, "if you have 14-year-old boy, if you can get him to do one thing once a day, you're lucky."
"For the very serious type, nodular acne, characterized by deep inflammatory bumps under the skin, we will add an oral antibiotic," Dr. Redmond explains. "If they still don't respond to this, we consider isotretinoin; it takes about five months of therapy. We calculate a total dose based on body weight and give this gradually over time." He says dosing isotretinoin this way is based on research studies after isotretinoin (formerly known by the brand name Accutane) was released in 1982.
However, because isotretinoin is so powerful, it is tightly regulated by the FDA, requiring that prescribers and patients register under the iPledge program. This is because the drug can actually cause birth defects if a female becomes pregnant while taking it. There also other adverse reactions. The doctors at Sona Dermatology & MedSpa are well-trained in prescribing this particular drug safely. "We are very good at careful monitoring for any problems that might arise," Dr. Redmond says.
Of course, your teen cannot receive prescription acne medication without an initial visit to the dermatologist. If your pre-teen or teen is experiencing painful, severe, or just-plain-resistant acne, do him or her a favor and book an appointment with one of the skilled doctors at Sona Dermatology & MedSpa's Lake Norman or Ballantyne location. Though it typically takes months to see a dermatologist, Sona offers the wonderful option for same-week, and, in some cases, next-day appointments (depending on availability). You can even book your child's appointment online. See below for booking information, and help your teen be confident in his or her own skin.
Sona Dermatology & MedSpa – Lake Norman
Address: 14330 Oakhill Park Lane, Huntersville
Phone: 704-289-0463
Sona Dermatology & MedSpa – Ballantyne
Address: 7825 Ballantyne Commons Parkway, Suite 300, Charlotte
Phone: 704-291-8047