Books That Cook: Christmas Cooking With Kids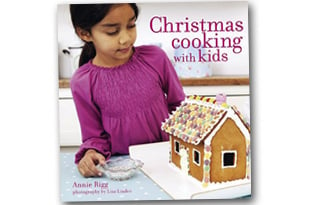 A great gift or book for the kitchen counter, "Christmas Cooking With Kids," (Ryland Peters & Small, August 2010, $19.95) gets families baking together during the holiday season. The more than 50 recipes from around the world are simple enough for children under 11 to make with minimal help from Mom or Dad. From cakes and desserts to edible decorations to tasty gifts, the recipes include simple, step-by-step instructions and beautiful photography.
Try such candies as Marshmallow Pops or Peppermint Creams, or delight in stirring up Meringue Snowflakes or Rocky Road Fridge Cake. Let the kids to make their own treats for teachers and neighbors this year! Author Annie Rigg is a freelance food stylist and writer, who used to cook for world-famous singers and bands on tour, such as Paul McCartney, Pink Floyd and The Rolling Stones.