Black History by the Book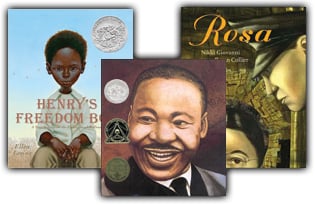 The history of America is rich with African-American leaders who fought for civil rights. Explore their stories with your children this month and talk about courage and leadership. Here are some titles to look up for children ages 4-8 at your local library:
• "Henry's Freedom Box," (Caldecott Honor Book) by Ellen Levine — is a story about Henry Brown, a slave who mailed himself to freedom. He travels by horse-drawn cart, steamboat and train before his box is delivered to Philadelphia on March 30, 1849.
• "Rosa," by Nikki Giovanni — is a beautifully illustrated picture book about little Rosa Parks' famous refusal to give up her seat on the bus. The book includes a double foldout page showing the crowd of people outside the courthouse following the 1956 Supreme Court verdict against segregation on the buses.
• "Martin's Big Words: The Life of Dr. Martin Luther King, Jr.," by Doreen Rappaport — is a pictorial biography of Martin Luther King Jr. with elegant illustrations through his childhood and adulthood as an esteemed civil rights leader and world hero.