Black Bean Chili Burgers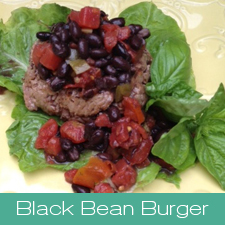 Ingredients:
2 tablespoons extra virgin olive oil
2 cloves garlic, minced
2 tablespoons chili powder
3 medium-size jalapenos, roasted, peeled, seeded and chopped
11/2 tablespoons ground cumin
1 tablespoon dried oregano leaves
1 tablespoon salt
1 medium yellow or white onion, chopped
1 (28-ounce) can diced tomatoes, with liquid
4 (16-ounce) cans black beans, drained
Shredded cheese
Sour cream
Preparation:
Sauté garlic, chili powder, jalapenos, cumin, oregano, salt and chopped onion in olive oil until onion is tender and mix is fragrant. Add tomatoes, black beans and 2-3 cups of cold water. Bring to a boil; reduce the heat and simmer 1 hour, stirring frequently and adding additional water if mixture becomes too dry. Adjust seasonings to taste.
Serve hot over grilled beef, pork, chicken or veggie burgers. Top with shredded cheese and a dollop of sour cream.
Note: This chili freezes and reheats quite well.
Contributed by Heidi Billotto