Beyond the Bunk Bed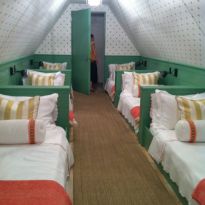 Holidays are a great time for families to gather, but do you struggle with where everyone will sleep? If you've got an attic or an extra bedroom you might consider turning it into a bunk room. Bunk rooms have become increasingly popular, particularly in vacation homes. A beach house or a mountain cabin are perfect places to build a bunk room so you can sleep comfortably while getting away from daily life and reconnecting with family and friends. A bunk room can be created by simply by lining up twin beds as shown in the photo, left.
Another option is building bunk beds onto the walls, so people can sleep on upper and lower levels. This bunk room was created by the homeowner using basic construction techniques and simple two by fours, then coated it with a beautiful and durable shade of paint. It is a basic, practical solution without a huge investment in fine woods, custom moldings or trims. 
This elaborate configuration is well suited for families since the queen bed on the bottom is good for the parents, while the twin bunk above is perfect for the child. This bunk room can sleep many people. Tight quarters can test even the closest families' patience, so you might want to test out these sleeping arrangements on a weekend before commiting to an entire week away.
What is your family's solution for sleep during holiday visits? Have any tips or tricks you'd like to share?
Barbara Green is the owner of Sensibly Chic Designs for LIfe, located at 830 Lamar Avenue in the Plaza Midwood section of Charlotte and host of Ask the Design Diva. She believes you can have it all: kids, pets, and a beautiful home!