Best Coffee Tables for Families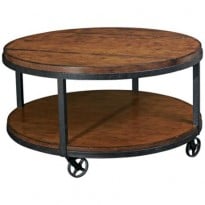 Have you ever rushed your kid to the emergency room after he/she fell into the sharp corner of a coffee table? The shape of a coffee table may seem like a benign decision, but accidents do happen. This round table has no pointed corners to cause bruising and it features a distressed wood top that will hide the imperfections your child is sure to add. The wheels make it easy to move around for friendly wrestling matches or slumber parties.
Every parent knows that with kids comes clutter. This steamer-style trunk has rounded edges for safety and plenty of room for storage of toys, games, or blankets. The disressed leather finish only gets better looking with more distressing!
Once the kids are older you don't have to worry about sharp edges as much, but you do end up having extra friends hanging around the house. This coffee table has durable slate tiles on top which will withstand any child's abuse, and features benches beneath when extra seating is needed.
If your family likes to enjoy a meal or snack in front of the TV, this lift top coffee table is perfect for you.  It still has plenty of room for storage in the two drawers and beneath the lift top. 
What kind of coffee table works best for your lifestyle? Share with our readers in the comments below. 
Barbara Green is the owner of Sensibly Chic Designs for LIfe and host of Ask the Design Diva radio show. She believes you CAN have it all: kids, pets, and a beautiful home!