Best Bets for Where to Play Board and Table-Top Games
Everyone is a winner with a round of family game time.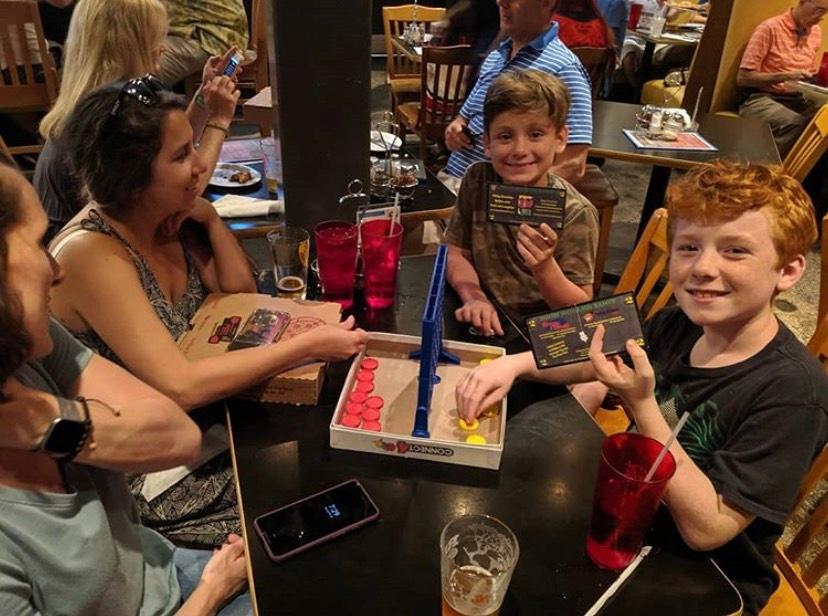 You know what they say: A family that plays together, stays together. Spend quality time and dive into some friendly competition at these local spots where you can roll the dice, deal some cards or take your chances up and down the game board. Play your old favorites or learn a new game like Magic: The Gathering or Warhammer 40,000. Many of these top spots serve food and snacks so you can keep the good times going, fill up on tasty treats and skip clean up duty. Now that's a win-win!
A big pizza pie with everyone's favorite toppings paired with board games, kids challenges, music and prizes means a winning night. Head to the The Pizza Peel and Tap Room in Cotswold on Saturdays from 6-8 p.m. where Pour Entertainment keeps everyone happy and playing nice.
Get your game face on in the same place you love diving into a good book at Barnes & Noble at the Arboretum location. Game night is held the first Thursday of the month at 6 p.m. You can find Ticket to Ride, Machi Koro, Superfight, Muchkin, Star Wars Chess and more!
The kids can play a round of Scrabble, Candy Land or Go Fish and you can enjoy a nice lunch with friends. That's a high score for sure. Amelie's locations in NoDa, Park Road and Carmel Commons are stocked with games or feel free to bring your own. With a top notch bakery, no one will be able to resist this sweet combination.
---
Aloha from a fantastic place to take a few trips around the game board. Kona Snow in the Sardis Crossing Shopping Center offers the perfect setting with sweet treats and cozy spots for game time. Kids and parents can fill up on Hawaiian shaved ice, coffee drinks, gourmet hot chocolate and original dessert bowls. With over 75 board and card games to choose from as well as table-top chess, checker and backgammon games, your family holds the winning hand.
If your family is in search of a new game to play, Your Local Game Store (YLGS) in Matthews offers tons of ways to try one out. Families can select a game from the library, settle into a comfy spot and play for free. Your group can also rent a private room for a few hours of play or, if staff time allows, an employee can teach the game from start to finish (fees might apply).
Does your family love games of any shape or size and trying new things? If so, Buzz City Games in Concord should be on your must-stop list. Located in a 100-year old former hotel lobby, this charming spot is perfect for family and friends to play tabletop games, board games, role playing games including Dungeons and Dragons and trading card games like Magic: The Gathering or Warhammer 40,000. Stop by Wednesday or Saturday evenings to test your mad gaming skills or visit during store hours and pull a game off the shelf to try.
Spandex City is truly designed with the whole family in mind, and if you are cuckoo for comics, you've come to the right place. Here you can find strategy and board games, collectible card games, tabletop miniature games as well as gaming supplies. If you want to paly it, they have it! Learn how to play a new game in the store and check out the extensive Web site if you are looking for something specific.
All Around the Board in Cornelius is a table top board game cafe in Lake Norman. With three rooms filled with new and classic board games, there's endless choices for ways to have fun. All Around the Board offers games for preschoolers through grandparents so everyone can play together or kids and adults can play separately. Hot summer day? Families and playgroups are invited to visit any time during summer business hours for some cool indoor activities. Cover charge is $6 per person, children under 3 are free and a monthly game pass is available for $30. All Around the Board also hosts monthly events as well as summer camps, birthday parties and more.
Courtney McLaughlin is a freelance writer, mother and enjoys a good game of UNO.