Be a Part of the Novant Thanksgiving Parade
Volunteer as a family to be costume walkers in this year's Novant Thanksgiving Day Parade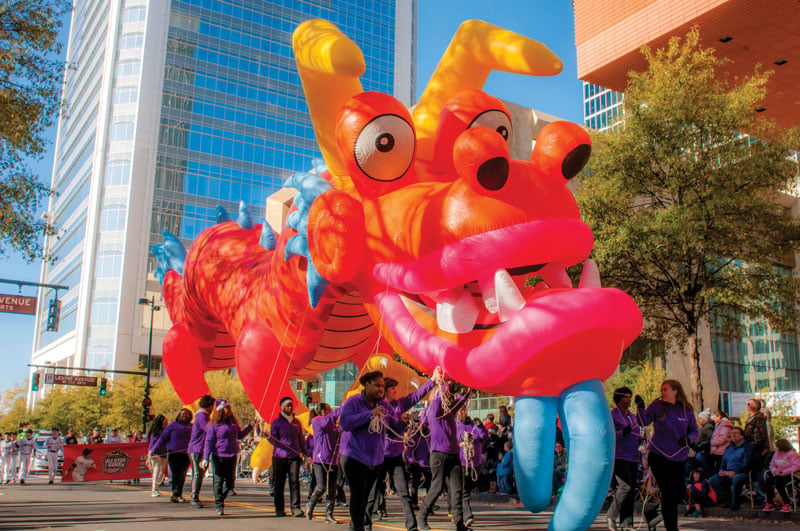 If your family loves a parade, kick-off Thanksgiving Day marching in the 2016 Novant Thanksgiving Day Parade. Children ages 10-15 and their parents can volunteer together as costume walkers. Costume walkers wear a group costume provided by parade officials, and walk and wave to spectators during the parade. Costume choices include crayons, elves, scarecrows, Uncle Sam, bakers and cowboys. The last day to register as a volunteer is Nov. 11.
This year marks the 70th anniversary of the first Thanksgiving Parade in Charlotte and features 26 floats, 18 marching bands, 12 larger-than-life balloons, 10 performance acts, and seven segwaloons — signature balloon characters attached to segways.
The parade steps off at 9:30 a.m. Nov. 24 and marches along Tryon Street from Stonewall Street to 10th Street. Spectators can reserve seats in the grandstand at the performance area on South Tryon Street in front of the Levine Center for the Arts for $20, or get a general admission seat for $15. Tickets can be purchased online or through the Novant Health Thanksgiving Day Parade app. The parade app also has information on performers, bands and floats, and maps of the parade route.
If you can't make it uptown, watch the parade on WBTV Channel 3 from Thanksgiving Day from 4-6:30 p.m. Find more details on volunteering and general parade details at novantthanksgivingdayparade.com.