Backpacks = Back pain?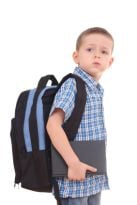 Up to 33 percent of all children and teens experience back pain, according to the Pediatric Orthopedic Society of North America. Although there's little chance a child will suffer permanent injuries from carrying an overloaded backpack, many children do put undue stress on their spines by using bags designed to hold only five or six pounds to support their 15- or even 20-pound loads.
Keep your child's back healthy by selecting a backpack using the following tips:
• The backpack should fit the child. The bottom of the bag should sit just above the waist — not very low on the back — and the top of the bag should rest just below the base of the skull.
• Don't let your children carry more than 10 to 15 percent of their body weight on their backs.
• Choose a lightweight backpack that has two wide, padded, adjustable straps.
• Load heavier items like textbooks first, so they're carried lower and closer to the body.
• For additional support for heavier loads, choose a bag with a waist belt. This will help redistribute the weight so it doesn't all fall on your child's shoulders.
If your child experiences lasting back or neck pain, consult your pediatric orthopedic physician or pediatrician.
Courtesy of Dr. Michael Wattenbarger of OthroCarolina's Pediatric Center.