Back-to-School Tips for Parents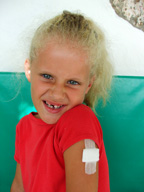 Laundry detergent. Check. Toilet paper. Check.
Just as the mother of two and sixth-grade teacher turns the corner and heads for the cereal aisle, she eyes Josh's mom heading straight toward her – most likely ready to corner her into a conference about why he got a B on the latest math test.
No teacher wants to spend his or her Saturday dodging parents at the grocery store … and there's lots more he or she wishes you knew. So Charlotte Parent asked, and local teachers, nurses, bus drivers and physical education teachers talked. Here are some of their unfiltered thoughts (sarcasm included!) about what they wish you really knew about what goes on inside the classroom, gym, infirmary and school bus.
Teacher
Your child isn't perfect
The statement, "He doesn't do that at home!" pretty much sums it up. Many parents simply deny their child could misbehave, or they jump to defend him without knowing all of the facts. Parents often don't allow their child to take responsibility for his own actions. Instead, they offer excuses, and yes, even lie for him. Trust my judgment. Remember I'm on your side, so get the facts about a situation before you react.
It's OK to allow your child to make mistakes. In fact, those mistakes will help him learn and grow as a person. I don't want a perfect student, only a student who's willing to try.
Her education is not completely my responsibility
Be involved in your child's education and school. Review and assist her with homework regularly, but refrain from doing it for her. Read with your child and let her see you reading, as well.
Establish open lines of communication with me. Visit me even if there isn't a problem. If a problem develops, it will be easier for us to resolve if a positive relationship already exists. Let your child know that you and I are on the same team.
Most important, have a positive attitude about learning. Volunteer in the classroom, or get involved in the PTA. Compliment your child and remind her of her amazing capacity to learn. Encourage your child to always be the best she can. Set high goals early on. Start asking at a young age, "What college would you like to go to?" rather than "Do you want to go to college?"
I need some kindness (cuz I spend eight hours a day with kids!)
I like praise too! And everyone loves surprises, including me. A Starbucks coffee, homemade cookie or piece of fruit certainly can add spark to my day. Tell me, "Thanks!" for a job well done, even if it's not Teacher Appreciation Week.
School Nurse
Kids catch colds, don't freak out
Beyond sending your child to school in a plastic bubble, the best way to keep her healthy is to help her to make healthy food choices, get plenty of rest and exercise regularly. Remind her to cough and sneeze into her elbow, and, last but not least, encourage her to wash her hands frequently.
I'm not a doctor
My initials are R.N., not M.D. So, don't tell your child to go see the school nurse to determine whether that rash or an injury that happened over the weekend needs further medical treatment. While I'd like to save you that medical bill, I'm not licensed to diagnose illnesses or discourage you from seeking proper medical care for your child.
And if you medicate your child for a fever before you send him to school, you'll be called as soon as the medication wears off. So be sure to get that exercising and shopping done by lunchtime!
Also, don't turn a blind eye toward how inadequate sleep affects your child's behavior and performance in the classroom. School-age kids need 10 to 11 hours of sleep each night. Turn off the television.
Bottom line: Please don't send your child to school sick, hungry, sleepy, dirty or without his medications or health supplies.
I do more than apply Band-Aids
I care about your child, and I am an essential part of the school campus, due to the growing rates of childhood asthma, diabetes, severe allergies, ADHD and other significant health problems. I have the educational background and professional skills to develop health care plans for children with health conditions, as well as to provide support to those children, their families and teachers on an ongoing basis. Most school nurses have a bachelor's or even a master's degree in nursing and national certification in school nursing, as well as extensive experience in public health and pediatric nursing.
Bus Driver
The driver on the bus goes "shh, shh, shh."
To make the wheels on the bus go round and round (safely), I need to drive, not babysit. Sure, I want your kid to catch up on the latest gossip and on who's wearing what, but certainly that can be done without yelling, screaming, throwing things and jumping in the aisles, right? And, no, I'd rather not crank up the heat on a beautiful spring day so your tank-top, flip-flop wearing kid won't shiver. Even on Indian Summer days, it's chilly most fall mornings, so send your child with a jacket.
Lastly, understand that two sides exist to every story. Don't assume your child can do no wrong. Children may act completely different when they're not around parents.
If your child can't see me, I can't see him
As much as I'd like to always have my eyes on your precious little chap, school buses don't really make that possible. If your child is walking too close to the bus, I simply can't see him. To avoid any accidents getting on or off the bus, make sure he knows basic school bus safety rules. Stress the importance of not walking near the back of the school bus or around the wheels. Remind him to cross at least 10 feet in front of the school bus and wait for the bus driver's signal before crossing.
Also, get outta those PJ's (or keep 'em on) and stroll down to the bus stop with your child. Make sure an adult is present at the bus stop every day, especially with younger children. Draw straws with your neighbors if you have to.
Finally, stop texting or tweeting long enough to check out who's behind the wheel of your child's school bus. You can even smile and say hello if you like.
P.E. Teacher
Flips, great. Flip-flops, not so great
Physical education means kids get physical. So, send your child in clothing suitable for moving and playing. If your child comes to school "bustin' a sag," he might end up "bustin'" his face on my gym floor. Proper clothing not only facilitates learning, but helps maintain safety. Leave the crocs, flip-flops and dresses at home. And, for goodness sakes, tell him to pull up his pants.
Believe it or not, P.E. is not recess and plays an important role in your child's development. P.E. teaches socialization skills and helps develop core areas of the brain, which promotes learning in all areas.
Think ice cream cone in hand, not Olympic torch
Remember that your child is first and foremost a child, not a little Olympian in training. And, when it comes to playing sports, the most important part is playing. She should play sports because she enjoys being active, not because Mom and Dad envision a future of Olympic medals.
Allow your child to experience different types of activities rather than solely ones you prefer. Help her reach her full athletic potential without pressuring her. Understand that no child wants to play poorly, so avoid yelling or punishing if things don't go well. Your child's coach will work with her to see what went right and what needs improvement. Lastly, you can never offer too much positive encouragement.
– Interviews for this story were conducted with staff from various schools, including (in North Carolina) Bruns Avenue Elementary and Mooresville Graded School District; and (in South Carolina) Crowders Creek Elementary/Middle, Fort Mill Elementary, Pleasant Knoll Elementary, Riverview Elementary, Springfield Elementary and Sugar Creek Elementary.
Emily Pritchard is a freelance writer with a master's degree in journalism from the University of South Carolina. She lives in Charlotte with her husband and two sons.