Baby Bumper Battle UPDATE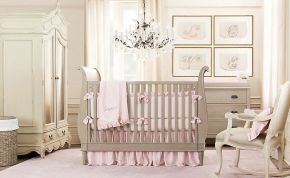 Regular readers of my blog might remember a post I did last February about the battle of the bumper pads that erupted since the American Academy of Pediatrics' announcement that they were dangerous and should not be used in baby's cribs anymore. Sides were chosen between the parents who emptied the crib in the name of safety and those who kept it full and fluffy for the look (and the padding) it provided.
I'm sure you can imagine that the Juvenile Products Manufacturers Association mobilized immediately to petition the Consumer Product Safety Commission on behalf of all of the companies that make baby bedding and bumpers. The Commission was ordered to test the safety of baby bumpers and come out with a definitive verdict. The JPMA was worried that an entire segment of their market was going to be annihalated by a negative ruling by the CPSC.
What the Consumer Product Safety Commission did was very bureaucratic. They issued a statement saying that pillow-like bumper pads were hazardous, but "traditional" bumpers were not hazardous. Maybe it's me, but aren't all bumpers "pillow-like?" What constitutes a "traditional" bumper? The CPSC staff is to develop a test  for potential safety hazards and determine whether crib bumpers provide any safety benefit. The Juvenile Products Manufacturers Association contends that the bumpers prevent bumps, bruises, and limb entrapment. The American Academy of Pediatrics feels the risk of suffocation far outwieghs these "minor" bumps and bruises, and limb entrapment.
Now the JPMA is happy because their members have not been forbidden from selling this product and the CPSC is happy because they have job security from the new studies ordered. Where do you stand? Do you think bumper pads are an issue, or not?
Barbara Green believes you can have it all: kids, pets and a beautiful home. She is the owner of Sensibly Chic Designs for Life and the host of Ask the Design Diva radio show, and insists you don't have to spend a million dollars to look like you did.