Baby Barn Owl Pendant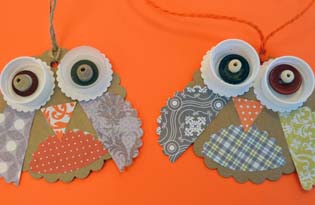 Looking for the perfect accessory for your new fall outfit?  Look no further!  These cute baby barn owl pendants can be worn alone or layered and snuggled together in a group (fun fact:  a group of owls is called a "parliament".  Raise your hand if you knew that.  We didn't!)   These pendants are made entirely from recycled materials that are easily found around the house and each one takes about four minutes to make!  So if you get started right now, you should be able to make at least thirty by dinner time!  Have fun!
You Need:
•??? ?Recycled cereal box or similar weight cardboard
•??? ?Water bottle lids
•??? ?Buttons and beads
•??? ?Yarn or twine
•??? ?Small hole punch
•??? ?White school glue
•??? ?Patterned paper or colorful papers from a magazine or catalog
•??? ?Optional:  craft circle punch
How to Do It:

1. Trace a circle approximately 3 – 5″ on a piece of recycled cardboard and cut it out.  As an option you can use a 3″ craft circle punch.  Using the small hole punch, make a hole in the top to string the twine necklace.

2. For the wings, cut a small circle out of colored or patterned paper.  Then cut the circle in half.  Each half circle will become a wing.  Cut a small triangle or diamond shape for the owl's beak.

3. For the belly, using the same small circles as you cut for the wings, cut a curved shape out of one edge of the circle.  You may have to experiment to get the right size, compared to the size of the body and wings.

4. To make the eyes, start by glueing small white circles that are a little larger than the water bottle lids.  This will form the fluffy feathers around the owl's eyes.  Then glue on the water bottle lids, buttons, and beads (for pupils)

5. Glue on the wings, belly and beak.

6. Tie the two ends of twine together and feed it through the hole in the cardboard, looping the other end through the twine and pulling it tight to form a pendant knot.
small hands big art is an art studio in South Charlotte that offers classes, camps, & parties for children & young adults.
8025 Ardrey Kell Rd.
Charlotte, NC  28277
704.246.8271
?