Avoid Fright-Night Fears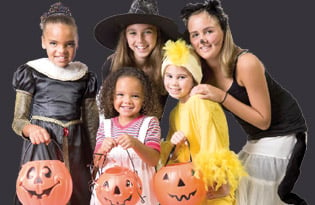 "Boo!" You've just jumped out of a closet to surprise your 8-year-old for a little Halloween fun, but instead of a screaming with laughter, he dissolves into tears. EEEEEEKKK!
The surprises and spooky images of Halloween may be fun for some kids, but parents need to be in touch with their child's threshold for scary subject matter to avoid anxiety and tears. "There is no 'one size fits all' rule…. The best rule of thumb is simply to decide whether your child has reasoning skills and the ability to separate fact from fiction fairly routinely," says Irm Bellavia, a board-certified child psychiatrist in Charlotte.
Difficulties sleeping, changes in emotion and separation anxiety are some of the signs that kids might be upset by the things they are seeing during the Halloween season, says Bellavia. Fear of the dark, an emergence of new fears and temporary regression, like thumb sucking and bed wetting, also can indicate a fear factor.
Accompanying kids during trick-or-treat activities and attending daytime events are just a few ways parents can make their child's Halloween experience less scary. "Focus on the fun of dressing up, trick or treating with neighbors and family traditions that will get your kids to look forward to this time each year," says Bellavia.
Check out these tips to avoid having the fear factor spoil your fun on Halloween.
Avoid Gratuitous Gore
It's one thing to have a scarecrow hanging from a tree in your front yard, but quite another to splatter it with blood. These horrific images can be extremely disturbing to even older children and keep them from sleeping for months.
Decorate with Classic Icons
Pumpkin faces, black cats and white-sheeted ghosts are familiar Halloween images that can set a festive, slightly spooky scene on your front porch or at your Halloween party. Less familiar images, like demons, monsters and mutants can be just plain frightening.
Manage Expectations
Sometimes a little preview of what's to come will help squelch feelings of fear. Discuss the activities you plan on attending during the holiday, including school costume parties or neighborhood trick or treating and talk about some of the images your child may see.
Concentrate on Treats, Not Tricks
Digesting a spooky scene is one thing, but adding the element of surprise is quite another. Motion detectors that set off shrieks or cause decorations to move suddenly are designed specifically for scary surprises and can ruin the evening completely. People dressed up as monsters in a closet or a live hand that suddenly grabs kids from behind is not only scary, but can be terrorizing and leave kids feeling vulnerable.
Keep the Lights On
Not all the lights, necessarily, but make sure kids have ample access to lighted areas or their own flashlight. If you're having a party, make the kitchen a lighted safe haven. In the back yard, keep a porch or garage light on. Giving kids their own flashlight is another good way to make them feel safe. Many kids already are scared of the dark in general, and may need to feel they have a safe, lighted zone before they step into the dark.
Attend Daytime Festivities
If you know your child is apprehensive, consider celebrating Halloween in the light of day. Hold a Halloween open house during the weekend, find out which neighborhood near you holds daytime trick or treating or attend a pumpkin farm or mall event where kids can wear their costumes and collect candy without waiting until dark. Not only will you avoid stressful scary situations, but you'll be able to set a positive spin on the holiday and set a foundation for the following year.
Be Age-Appropriate
Younger kids are more apt to be scared of loud noises, unfamiliar sounds and even just the masquerade of people in costumes. If you're attending a party or local event, call ahead to inquire about scary activities or decorations so you and your child can know what to expect. If you're having a get together of your own that includes a variety of age groups, cater your main decorating and activities to younger guests and provide some spooky fun for older kids — scary movies or spooky games — in a separate area.
Don't Push or Pressure
You may be tempted to show your child the benign fun of Halloween, but forcing kids to participate in activities that scare them will only add stress to an already stressful situation. Encouraging words can reassure your child that he is safe, however, follow your child's lead when it comes to joining in.