Atlanta Lights Up for the Holidays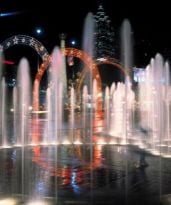 Looking to be dazzled by holiday lights and big-city vibrancy, but can't afford a bite of the Big Apple? Consider a trip to Atlanta, where you can enjoy a bit of down-home southern hospitality along with world-class attractions at affordable prices within an easy drive.
Downtown Lights
Atlanta's Centennial Olympic Park, a 21-acre year-round public space redesigned after the 1996 Olympics, lights up with thousands of twinkling lights and displays, as well as an ice rink, during Holiday in Lights. It can get a bit crowded with less-than-experienced skaters, so watch out for falling kids. If your children prefer running and climbing to skating, there are many trails and playgrounds at the park, including one accessible for all children.
Two other nearby attractions are Imagine It! The Children's Museum of Atlanta at the northeast end of Centennial Olympic Park. This 30,000-square-foot museum features hands-on, interactive exhibits for children 8 and younger. At the southwest side of the park, you can catch the Inside CNN Studio Tour.
Worldwide Refreshment
The new World of Coca-Cola pays tribute to the history and culture surrounding America's favorite soft drink, developed by southern pharmacist, John S. Pemberton in Atlanta in 1886. Since then, the Coca-Cola company has grown into a worldwide enterprise with more than 2,600 beverages.
A highlight of our visit to the recently expanded attraction — part museum, part mini-factory and advertising showplace — was the tasting area, with more than 60 beverages from around the world. Try as many as you want. You're bound to find a few you wish were available in the United States and several you're glad aren't. Your kids will be amazed at the different tastes of Coca-Cola. The lovable Coca-Cola polar bear poses for photos inside the attraction, while Santa Claus greets visitors outside at the Holiday Caravan.
Walk with the Fishes
A short walk across Pemberton Place is the world's largest aquarium, which by itself is worth a trip to Atlanta. My son and I were wowed by the wide variety of creatures and creative, interactive exhibits at the Georgia Aquarium. With more than 100,000 freshwater and saltwater fish, and mammals in five galleries, you don't just see aquatic life — you touch it, hear it and experience it.
The Georgia Explorer gallery is a large play area with tunnels, a whale slide for all ages, a simulated shrimp ship, and touch pools with horseshoe crabs, sea stars, stingrays and sharks. If you have little ones, consider waiting to see the gallery mid-visit, or you may have a hard time getting them to leave.
Cold Water Quest has another touch pool, as well as fun-loving sea otters, lazy California sea lions, huge beluga whales and an African penguin exhibit, where you can poke your head up into the middle of them. The Japanese spider crab is a show-stopper — the largest known arthropod can grow to the size of a car and live 100 years.
Wind your way through tree trunks on the bottom of the river in River Scout, where electric eels and electric catfish reside, along with crowd-pleasing Asian small-clawed otters. Walk down a 100-foot-long tunnel through the 6.3-million-gallon Ocean Voyager tank with whale sharks and other giant fish found in the open sea. After journeying through the depths of the ocean, relax in Tropical Diver with one of the largest living reef exhibits in any aquarium where thousands of colorful fish dart while an overhead wave gently crashes.
Let it Snow
Need a little more holiday spirit after the aquarium? Snow falls nightly through Dec. 31 at Atlantic Station, a retail and entertainment district. Kids can ride a miniature train and families can enjoy the magical glow of more than 250,000 lights and the Midtown skyline during a horse-drawn carriage ride.
Where to Stay
While downtown hotels often are more expensive, staying in the city shortens commuting time to the attractions, and some hotels are within walking distance of either a MARTA station or the attractions. Several also offer package deals with attraction tickets.
The Atlanta Marriott Marquis, conveniently located at the Peachtree Center MARTA station and decorated for the holidays, offers special deals that include King Tut and First Emperor packages, Georgia Aquarium and the Titanic Aquatic and Zoo Atlanta (www.marriott.com/hotels/hotel-deals/atlmq-atlanta-marriott-marquis). The exhilarating rides on the indoor glass elevators, 21 plasma screens at the sports bar and downtown views from the hotel guestroom windows are extra bonuses.
Atlanta offers family fun and entertainment regardless of the time of year you visit, but the holiday attractions add to the vibrant feel. Be sure to time your travels into and around the city to avoid rush-hour traffic congestion.
Want To Go?
Atlanta Convention & Visitors Bureau — www.atlanta.net
Holiday in Lights and Ice Skating at Centennial Olympic Park — www.centennialpark.com/events/ice.html. Through Jan. 4. Park open daily 7 a.m.-11 p.m. Skating rink open daily except Dec. 25. Admission $7 for 90 minutes; $2 skate rental.
New World of Coca-Cola, 121 Baker St., N.W. — www.worldofcoca-cola.com. Admission $9 ages 3-12; $15 adult; $13 seniors. Reserve tickets online in advance.
Georgia Aquarium, 225 Baker St. — www.georgiaaquarium.org. General admission $19.50 ages 3-12; $26 adult; $21.50 seniors; 4-D Theater $4-$5.50, and family behind-the-scenes tours $50 additional.
Inside CNN Studios, One CNN Center — www.cnn.com/studiotour. Admission $9 ages 4-18, $12 adult, $11 seniors for a 50-minute guided walking tour inside television news.
Imagine It! Children's Museum of Atlanta, 275 Centennial Olympic Park Drive — www.imagineit-cma.org. Admission $11 ages 2 and older.
Atlantic Station, 1380 Atlantic Drive N.W. — www.atlanticstation.com. Snowfall weeknights at 7:30 p.m. and 6-9 p.m. Friday and Saturday through Dec. 31. Children's train operates noon-8 p.m. weekends through Dec. 21; $3. Horse-and-carriage rides 6-8 p.m. Saturdays through Dec. 21; fundraiser for Make-A-Wish Foundation.
CityPASS Tickets — www.citypass.com/Atlanta. Admission to five of Atlanta's most famous attractions; $69 ($141 value) for adults and $49 ($113 value) for ages 3-12.
AtlanTIX — www.atlantaperforms.com. Half-price tickets to same day performances.
MARTA (Metropolitan Atlanta Rapid Transit Authority) — www.itsmarta.com
Crickett Gibbons is the editor of sister publication, Carolina Parent magazine