Are Your Kids Ruining the Rugs?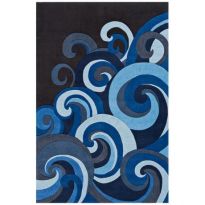 Do you know this story: straw goes into juice box, juice squirts out on rug? Or maybe this one, Mini-Michaelangelo colors with markers, but the rug gets in on the coloring action? Or the worst one of all, the stomach bug comes to town and your rug is the welcome mat?
When accidents happen and that ugly stain is not coming out, you can prolong the life of your wall to wall carpeting by placing an area rug on top of it. There are special pads to use for this purpose so the area rug stays put and won't trip anyone. When selecting an area rug for a child danger zone, I suggest choosing one that is patterned and has several colors so hopefully any accidents that occur are camouflaged. You can use a really fun and funky design for the kids' rooms or a more subdued pattern for the family room, just make sure it isn't a solid color.

If these stories of woe don't sound familiar yet, just wait, they will eventually. You can prevent the permanent damage to wall to wall carpeting by making a preemptive strike by placing a brightly colored and patterned area rug over the wall to wall carpeting before the damage is done. That way when the  misshaps happen you only have the expense of the area rug to replace (or not) and not the expense of replacing an entire room of wall to wall carpeting.
The most stubborn stain from my kids was baked beans from a stomach virus. Do you have a carpeting horror story to share?
Barbara Green believes you CAN have it all: pets, kids and a beautiful home. She is the owner of Sensibly Chic Designs for Life and the host of Ask the Design Diva radio show and insists you don't have to spend a million dollars to look like you did!