Applesauce Pancakes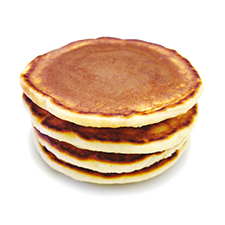 It's always a good idea to kick off your day with a healthy breakfast. Whip up a morning meal with this tasty recipe that the kids will love!
Makes 25 pancakes

Ingredients:
1¼ cup lowfat milk
2 large eggs, beaten (or ½ cup of whole frozen eggs, thawed)
¼ cup vegetable oil
2 cups applesauce from a can
3 cups allpurpose flour
2 tablespoons baking powder
1 teaspoon salt
¼ cup sugar
¼ teaspoon ground cinnamon
Directions:
With your mixer (using the paddle attachment), blend the milk, eggs, oil and applesauce on low speed for one minute. Sift in the dry ingredients the flour, baking powder, salt, sugar and cinnamon. Mix the batter on low for 15 seconds, then scrape down the sides of the bowl. Continue mixing on medium for an additional minute. Heat your griddle to 375 F. Spoon the batter onto the griddle. Each pancake should use approximately three tablespoons of batter. Flip each cake once; bubbles form on the top and the bottom starts to turn a golden brown.
Per serving: 121 calories, 3 g of protein, 19 g of carbohydrates, 4 g of total fat, 0.7 g of saturated fat, 20 mg of cholesterol
> Back to Healthy Recipes