An Eco Friendly Halloween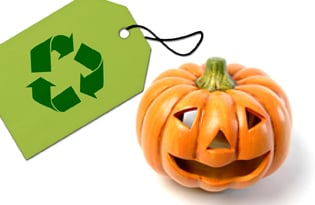 There are many ways to begin greening up your Halloween this year.  The reasons for doing this are many:  reducing trash from single use items that will end up in the landfill, reducing exposure to toxic chemicals through all the plastic aspects inherent in the holiday, finding a little bit better way to provide sweet treats for kids that are made with better quality ingredients so you and they can enjoy more of them without guilt.   No matter where you are on your green living path – a newbie or an old hand – it always makes sense to look around and find ways to be more Earth friendly.
The first place to re-think ingrained choices is with your Candy Treats.  Most of the world's cocoa (including that made into chocolate used by Hershey's and Nestle's) is still being harvested in West African countries that use exploited child labor.  As well, chocolate is the second crop (after cotton) that is sprayed with the most chemical pesticides during its growing.   If you can find fair trade and organic chocolate candies (search online!  visit your natural foods grocer!) , you will be taking a stand for safe children and clean food the world over, during a holiday that is celebrated by, for, and about children.   And what could be better than that?
In your Treat & Treasure Bag, look for ways to avoid single use plastic Halloween containers.  Treat and treasure bags may be made out of old pillow cases, used shopping bags, purses, or sewn out of fabric. Kids love to decorate their bags and make them their own.  You will be re-using and re-cycling something you already own – a huge step in any green effort.
Here's a way to get eco-creative with your Lighting:  For an exceptionally spooky flashlight, take blank paper and fit it like a tube around the flashlight's bulbous part, extending 4-5 inches and essentially converting the flashlight into a mini-light saber. Once the paper is fitted correctly, cut out silhouettes of witches, spiders, etc. Glue them on the paper and tape it around the flashlight. When turned on, the patterns will stand out on the glowing beam.   The key eco-component here, is to remember to use rechargeable batteries rather than disposables during Halloween.  Battery acid is toxic, leaching into groundwater and causing serious environmental contamination. Shakable, hand-cranked and solar-powered flashlights are also battery free and fun for kids to use.
Another way to get eco-creative is with your Costumes:  Skip the pre-fab, plastic, made in China versions.  Watch out for the soft vinyl—similar to shower curtain material—in many mass-produced costumes: that's likely polyvinyl chloride (PVC), which releases dangerous chemicals. Not exactly something you want covering your face (or your child's)—plus, it can't be recycled.  Try bending old wire hangers into angel or butterfly wings.   Scour your closets (and your friends', and neighbors', and local thrift stores) for flashback fashions you can pair up, trim down, sew together, or dye naturally.  Even better, host a neighborhood costume swap – no need to let your kids wear it once then throw it away – trade it! ("one person's trash is another's treasure").
With a little advance planning, some creative thinking, and well-informed intentions, you can make this Halloween a deeper shade of green – a color all ghouls and goblins love!
?