American Girl Store Grand Opening Oct. 11 at Southpark Mall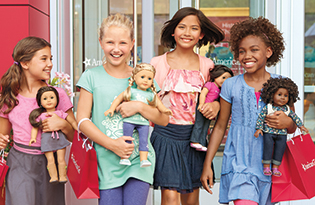 Expect to hear giggles of glee Oct. 11 in the main hall outside Macy's at Southpark Mall as American Girl unveils its new retail experience. The 12,000-square-foot-retail site is a place for girls, and their family and friends to shop for American Girl products, have tea, or spend the day at the salon with their American Girl dolls.
Beyond shopping, store guests can treat their doll to a new 'do in the Doll Hair Salon, where they can choose from a variety of salon services — from ponytails to pampering to pierced ears — before picking out a new outfit and accessories for their doll. After spa time, girl and doll can pick something out for themselves from the Dress Like Your Doll collection or create matching, stylish T-shirts at Creativi-tees boutique.
And after all that shopping and pampering, stop by the Bistro for lunch, dinner or dessert and tea. Menu items include Cheesy Cheese Pizza or more adventurous dishes such as herb-roasted salmon with lemon buerre blanc for the older guests. Best of all, favorite dolls are seated next to their owners in "treat seats" and are provided their own doll-sized menus.
The store features a complete assortment of the company's popular historical and contemporary dolls, including Isabelle, the 2014 American Girl Doll, each with their own story to tell. And if a doll is in need of a general freshening up or a major surgery, bring her to the Doll Hospital for a fix-up.
Packages are available for birthday parties and other special occasions in the Bistro or a private party room perfect for organized activities for the special guest, friends and, of course, her American Girl dolls. americangirl.com.