Adventure Abounds in Chattahoochee National Forest
Siteseeing, outdoor adventure and family fun await in northern Georgia.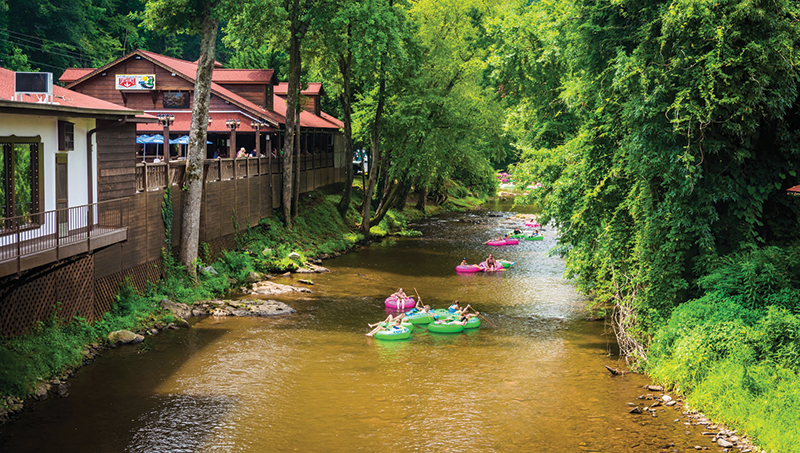 If your family is looking for a relaxing, outdoorsy getaway with plenty of awesome sightseeing, the 750,000-acre Chattahoochee National Forest in northern Georgia is the place to go. It spans Georgia's Blue Ridge Mountains and contains the Cohutta Wilderness area, which offers recreation for the whole family and accommodations for every family's style.
Accommodations
If you like roughing it, reserve a site at Fort Mountain State Park's campground located at the top of the 2,800-foot high Fort Mountain. Amenities include electricity, water, shower houses with flush toilets and gravel camping sites with scenic views. Nearby Amicalola Falls State Park offers a smaller campground with similar amenities.
If camping isn't your style, Fort Mountain and Amicalola Falls state parks offer spacious one- to three-bedroom cottages with bathrooms. Cabins can also be found in nearby private parks.
Can't give up the conveniences of modern living? Book a room with a panoramic view at one of the lodges nestled in the mountains at Amicalola Falls or atop Fort Mountain. Lodges offer casual dining and other hotel services.
Wilderness Fun and Adventures
Fort Mountain State Park offers several miles of hiking trails — from short half-mile nature trails to an 8-mile trek for more experienced hikers. Wind through the mountainous forest, across streams, along a small waterfall and up to a stone lookout tower. Listen for the commonly heard barred owl, easily distinguished by its "Who cooks for you?" call.
The park is named for a mysterious 855-foot-long rock wall that is listed on the National Register of Historic Places. Historians believe Native Americans built the wall as fortification against more hostile Native Americans and for ancient ceremonies. A short hike leads visitors to the wall.
Horse rentals also are available at Fort Mountain State Park for one-hour trail rides or longer excursions. Bikes and helmets can be rented for children and adults to enjoy on the park's 27 miles of mountain biking trails. A clear mountaintop lake at the park offers fishing, boat rentals, swimming and a sandy beach. Fort Mountain State Park is open 7 a.m.-10 p.m. and there is $5 parking fee, plus camping fees if you choose to camp.
Amicalola Falls is a scenic one-hour drive from Fort Mountain State Park. Amicalola, a Cherokee Indian word meaning "tumbling waters," is an apt name for the 729-foot falls — the tallest waterfall east of the Mississippi River — and the falls can be viewed from above and below. There are 12 miles of hiking trails at Amicalola State Park, including an 8-mile trail that leads to the southern end of the Appalachian Trail.
The Cohutta Wilderness is home to an abundance of wildlife, from numerous species of birds to deer and even bears. Don't forget binoculars. An inexpensive pair for each child will keep them scouting and take their minds off weary legs. Book zip line tours, archery, guided hikes and GPS scavenger hunts at the Amicalola State Park Lodge.
Amicalola State Park hosts live exhibits and nature displays, plus educational nature programs during the weekend. Park hours are 7 a.m.-10 p.m. and all cars require a $5 Georgia state park pass.
For more information about Fort Mountain and Amicalola Falls state parks, visit gastateparks.org/fortmountain or amicalolafallslodge.com.
---
Kimberly Blaker is the author of a kid's STEM book: "Horoscopes: Reality or Trickery?" She also writes a blog titled Modern Family Style at modernfamilystyle.com.