Adrenaline Rush: Thrilling Stops for Family Adventure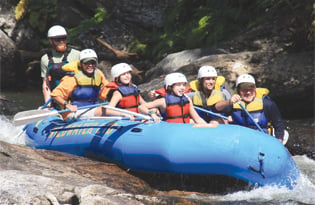 The Carolinas deliver a variety of adventurous activities. From zip lines high in the trees to skydiving in an enormous wind tunnel, families in need of action can find plenty to keep the adrenaline flowing.
Flying on the Wind
Paraclete XP Skyventure
Ever wanted to go skydiving, but don't have a plane (or…gulp…a parachute)? Paraclete near Fayetteville, N.C., has your back. Paraclete has the world's biggest vertical wind tunnel: a whopping 51 feet tall and 16½ feet across lets you and your family "fly" together. After suiting up and getting some one-on-one time with an instructor, you float on the power of the wind. There are some restrictions – no expectant moms or kids younger than 2, for example – but if you're in good health, you're ready to fly.
A Little Less Adventure: Don't feel like flying today? Watch from the viewing area as family members float up and down right in front of you. Young kids are offered coloring books and crayons while they wait, too.
190 Paraclete Dr.
Raeford, N.C.
1-888-4SKYFUN
www.paracletexp.com
Prices range from $39 for repeat flyers to $63 for first-timers and up
Zipping Through Trees
ZipQuest at Carver's Falls
Spend more than two hours in this untouched natural area – while you're zipping through the treetops, high in the canopy. Carver's Falls offers a zip line experience for the whole family (over age 10). From floating spiral stairways to a suspension bridge over the falls, you can enjoy the beauty of the area without setting foot on the ground. And you'll end your experience by zipping right beside the waterfall itself.
A Little Less Adventure: Non-thrill seekers can visit the nearby Airborne Museum in Fayetteville.
533 Carvers Falls Dr.
Fayetteville, N.C.
910-488-8787
www.zipquest.com
$79 for adventurers ages 10 and up
Ride the Wild Rapids
U.S. National Whitewater Center
Don't let the name fool you. Sure, your family can go whitewater rafting (on the world's largest man-made rafting river) and kayaking. But you can also mountain bike, zip line, try an adventure course, or free-fall jump. This amazing facility crams in almost every outdoor adventure you can think of. Your family can buy a day pass or play the whole year with a season pass.
A Little Less Adventure: Try eco trekking. Children love to walk the trails with a GPS to track and uncover hidden treasures with facts about local wildlife and ecology.
5000 Whitewater Center Pkwy.
Charlotte, N.C.
704-391-3900
www.usnwc.org
For an all-day, all-sport pass, $49 for ages 10 and up, $39 for 9 and under. Prices go down if you skip certain sports.
Kathleen M. Reilly and her family are always up for adventure, traveling around the East Coast in search of a thrill. She's the author of Walt Disney World Extreme Vacation Guide for Kids and lives in the Triangle area of North Carolina.