Adorable Beds on a Budget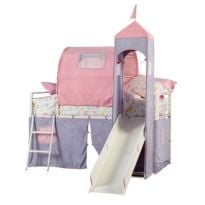 Interior Design does not have to be expensive. Shocking to hear that coming from an interior designer, right? You may recall my post from March 14, 2013 "Is Your Child Worth $47,000?" It showed extravagant children's beds that cost more than most people's cars. While beautiful works of art, they certainly aren't within reach of the average American.


If you would like to provide your child with an adorable bed but keep it on a much tighter budget, there are more affordable options out there. How cute is this bunk bed with a slide on the side? It would have been so fun to have that as a kid! It's available in both pink/purple and blue/green combos, whichever suits your child's fancy. The best part is it costs less than 1.5% of the original post's princess bed. Now that's a bargain!
If your child dreams of being a professional ball player, archeologist, or princess there are headboards to suit those dreams, too. Headboards that look like a football, baseball, soccerball, basketball, dinosaur, heart, or crown can be had for under $150. While car and boat beds have been around for a while, the Dune Buggy bed would be an exciting twist  for beach adventures in their dreams. Let their imagination run wild, without running off with your wallet!


If you were a kid today, which kind of bed would you want?
Barbara Green believes you can have it all: kids, pets and a beautiful home. She is the owner of Sensibly Chic Designs for Life and the host of Ask the Design Diva radio show, and insists you don't have to spend a million dollars to look like you did.