Acing the Private School Interview
Tips on what to expect and how to prepare.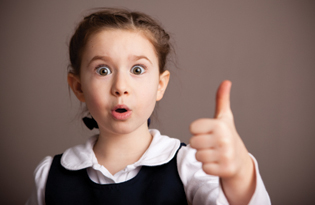 After visiting schools and attending open houses to explore private school options, you can begin applying to the independent schools you would like your child to attend. While each school has different requirements, many independent schools have an interview and testing component included in the application process.
"Interviews and testing are a part of the bigger application process to complete the picture of the child," says Linda Nelson, executive director of the North Carolina Association of Independent Schools. "They are not used to screen out children, but to help see if the school is a match for the specific child." Schools typically use many criteria to determine admission in addition to the testing and interview component, such as recommendations, the application and report cards.
Many schools begin the interview process for children around third and fourth grade, while some also have informal interviews for younger students. Some schools also interview the child's parents as part of the admission process to help make sure that the school is a match for the family's expectations.
Cecil Stodghill, director of admissions at Providence Day School, cautions parents about projecting any anxiety they have about the admission process onto their kids. "We see 4-, 5-, and 6-year-olds with anxiety about the process, because their parents have passed on their anxiety that the tests are going to be the deciding factor of what schools they are accepted into."
What to Expect from Testing and Interviews
Students typically meet with two people during the interview process — the admissions director and an academic representative. Often, the student candidate meets with a student from his grade level with whom he may interact if he attends the school. "The interviews are typically more of a focused conversation than an interview," says Nelson. "The school understands that the child is nervous, and usually keeps the meeting very casual."
For younger children, the testing portion is often done in a playgroup setting and is very informal. For older children, the testing may be more formal, and typically measures critical thinking and application skills. Nelson says that parents should not have their child study or prepare for the test, but simply encourage them to do their best.
Since each school has a different process for testing and interviews, contact the school to find out exactly what to expect. Ask how many people he will be meeting with and how long each interview will last; and find find out what types of tests your child should expect and how long each may take.
Explaining the Process to Your Child
Sit down with your child before the appointment and explain what she can expect at the interview, including a conversation with someone from the school who wants to get to know her better. And let her know that she will also be taking a test(s). Explain what type of tests she can expect, who she is meeting with and how long each portion of the day is scheduled to last. When you talk to your child about the meeting, be casual and encouraging.
Kathy Booe, admissions director at Charlotte Latin, recommends parents tell their child that they are going to see the school, and not position it that the school is evaluating them. "Tell your child that they are going to have a chance to talk with some teachers and get to ask questions to people who know the school very well," says Booe. If the student is scheduled to take a test, she suggests that parents explain that the test is a way for the child to show what she has learned at her current school, and see how it fits with the other school's curricula.
For older children who have a more formal interview, Stodghill says it is important to remind kids to be themselves and not give answers that they think are what the interviewer wants to hear. "It's all about making sure that the school is the right fit for both the school and the child. It is imperative that kids be who they to ensure the best fit for them."
After the interview, let your child tell you as much or as little about the day as she wants. Resist the urge to ask lots of questions to figure out how she performed on tests and in the interview. Notice if your child seems enthusiastic about the school after the visit, and use her reaction to help decide if this school is the right fit.
"Parents have to be more concerned with fit for their child than the school's name on the marquee," says Stodghill.
Prep for a School Interview
Linda Nelson says that students may be asked the following types of questions during a school interview.
• Tell me about yourself.
• What did you do over the summer?
• What is your favorite class at school?
• Tell me about an important person in your life.
• How would you define a good friend?
• Where are you thinking of going to college? (for high school students)
• Tell me about the books you have read lately.
• What do you like to do for fun?

Jennifer Gregory lives in the Triangle area with her husband, two kids and three dogs.