A Wonderland of Confections: Holiday Sweet Scenes at the Ritz-Carlton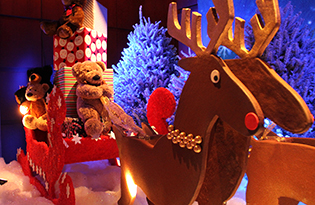 Highlighted by a larger-than-life, often edible series of seven Holiday Sweet Scenes, a fantasy candy land is brought to life at the Ritz-Carlton uptown. Featuring the world's largest pastry tree standing eight feet in edible height; a 12-foot tall holiday tree made of 8,000 handcrafted French macaroons; and a whimsical 10-foot tall gingerbread house with its own clock tower, it is a holiday wonderland of confection.
Candy-Land, presented alongside the hotel's Bar Cocoa Dessert Boutique, provides displays, tastes and demonstrations of creative hot chocolates, flavored marshmallows, peppermint candy gelato and sweet treats. A few selections make use of natural honey harvested from the two beehives located on the hotel's green, vegetated roof.
A hand-sculpted chocolate Santa's Sleigh led by two giant chocolate reindeer welcome guests in the hotel lobby. The sleigh also serves as a drop-off point for guests to leave teddy bears to be donated to Levine Children's Hospital. And don't miss the 17-foot "green" holiday tree constructed of 789 recycled plastic bottles on the outdoor plaza at the College Street exit. No golden ticket is needed to enter. Holiday Sweet Scenes is open to the public between 9 a.m. and 6 p.m. daily through Dec. 28.
The Ritz-Carlton also presents Holiday Afternoon Tea Saturdays and Sundays Dec. 6 through 21 between 10:30 a.m. and 3 p.m. A special children's tea menu includes mini-sandwiches of Nutella with hazelnuts, and ham and cheese, along with a colorful selection of holiday sweets and cookies. The annual experience is priced at $35 for adults and $25 for children younger than 12 years of age. To make reservations, call 704-547-2244. ritzcarlton.com/charlotte.