A Trend? Grandparents Baby Showers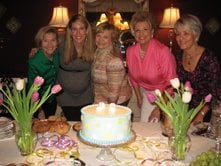 Burgess Johnson has been made a grandmother a few times over. Husband, Ken, has two grown children from a previous marriage and the family has been blessed with three granddaughters ages eight, 11 and 13.
But this time, things are different.
Ken and Burgess' daughter, Connie, is the one expecting, and James Wyatt Norris – called Wyatt – is the first male grandchild for the family. And, unlike the other grandchildren, Connie, her husband Jay, and soon-to-arrive Wyatt live close by. "The first grandchild within grabbing distance," Johnson says nearly jumping out of her shoes. "I'm getting so excited. We just went out to buy a baby bed."
All these "firsts" weren't lost on her friends, many of whom enjoy Memaw, Grandma, Nana or Mimi status. So one rainy March afternoon, with her pregnant daughter at her side, Johnson reveled in another first – a grandmother baby shower.
Times Are Changin'
Leave it to those spunky baby boomers to redefine the role of grandparents (and find another reason to party). Many of today's grandparents have the money, time, energy and interest to spend doting on grandchildren. "I want to spend a lot of time with him," says Johnson whose grandparent honorific is Birdie (Ken is Papa). "I hope I will be the kind of grandmother he always feels he can come to. I want him to know that he can count on me, no matter what." The importance of grandparent involvement took international center stage when Marian Robinson, President Obama's mother-in-law, moved into the White House to help care for her two granddaughters, Malia and Sasha.
All this quality time at grandma (and grandpa's) means baby supplies are going to be in order. "The gifts are something a grandmother would need at her house when the baby visits," explains party hostess Judi Cohen. Judging by the pile of blue paper, pretty packages and overflowing bags, it seems Johnson is going to be ready.
Johnson admits times have changed from when she was the one in search of a comfortable chair and the nearest bathroom. Her daughter had to remind her not to bother with crib bumpers – a potential suffocation hazard for babies. "I don't remember having a lot of restrictions," says Johnson. "I think I'm going to be a little nervous at first."
Words Of Wisdom
This is not the first grandmother baby shower for this circle of friends. Fellow hostess Bonae Scholl, proud grandmother to Graham, was one of the first honorees. "Burgess is our friend and we've all been grandmothers, so we decided to share our joys with her," she says.
After filling their plates with finger sandwiches, scones, breads and fruit, the women get down to business. Surrounded by family, neighbors and long-time friends, Johnson reads tidbits of advice written by the attendees.
"Spoil him all you want, remember you get to give him back."
"Agree with everything the new mother says and does."
"Never say never."
"Spoil, spoil, spoil – remember they can always do things at your house they can't do at theirs."
And of course: "What goes on at grandma's house, stays at grandma's."
And what baby shower is complete without baby games? The ladies stand up, glance at Connie, and measure out their pieces of yarn to estimate her growing circumference. During the baby song game, teams try to write down as many song titles with "baby" in the title as they can.
Laughter and stories about the ups and downs (mostly ups) of grandparenthood are shared throughout the morning.
Lastly, it's time for cake and gifts. As expected, her friends have come through in spades and Johnson is now the proud owner of a baby wipe warmer, portable crib and playpen, bath toys, books, clothes, bibs, baby blankets and other essentials. "I'm so ready," laughs Johnson. "I feel like I'm more prepared than some mothers."
The close of the shower brings more congratulations, words of advice and hugs. "This is so great that all you gals could be at my celebration of what's coming," a beaming Johnson tells her friends. Hostess Scholl quickly gets down to the motive behind the motif. "When we come to see this baby," she reminds Johnson. "We get to hold him."
The Wait Is Over: James Wyatt Norris came into the world on May 10, 2009 on Mother's Day weighing 8lbs, 11oz and 21 inches long. Birdie is making use of her baby shower gifts and making good on her promise to love and spoil her grandson.