A Stress-Free Holiday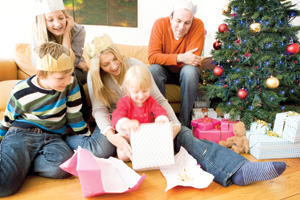 A Stress-Free Holiday
No doubt you've heard the words to the traditional English carol, "Deck the halls with boughs of holly, Falalalalalalalala." Simple translation: "Decorate your house." However, there has been many a December when it feels like Mom's the one being decked — in the modern sense of the word.
In the quest for the picture-perfect Christmas, women across the nation exhaust themselves baking cookies, searching every craft store in town for red ribbon, haunting the malls for the ideal gift and generally driving their families crazy.
The wonder of the season is, did you really enjoy it? Or did it sweep past you while you were rummaging in a box looking for that special something to add to the experience? Were you too busy trying to make it "perfect" that you didn't enjoy making memories with your kids?
If you're haunted by some of these same ghosts of Craziness Past, look toward ways to really deck the holidays: cut out the complications, slow down, smell the apple cider and enjoy your children. Here are some shortcuts that will lead you to a simpler season of good cheer.
• Décor — Keep it straightforward. A pretty wreath on the front door and a few strings of lights will do wonders for your home's curb appeal. While it might not win your neighborhood's light display awards, it will be festive without wearing you out. Plus, it will be easier to include the kids in the project if it is not a major production.
Inside, choose one color scheme, such as white, red or gold. Thread it throughout your home in the form of candles, bows, fancy pillows and sparkling lights. Allow the children a voice in the placement of different items. Resist the urge to redecorate. Incorporate into your décor any holiday projects or crafts they have made. They'll love it and will feel a part of the celebration.
• Greetings — Rather than purchasing elaborate and expensive greeting cards and photos, combine them into one easy mailing: a postcard. Not only will this save time in writing shorter notes and not stuffing envelopes, your postage costs also will be significantly lower. Companies like www.winkflash.com or www.mpix.com can take your custom design and produce dozens of great cards for a low price. Let the kids help by sticking on stamps and signing their names.
• Gifts — Buy the same item for everyone on your list, at least those outside of your immediate family. Buying one thing in bulk will give you fewer details to keep track of. A cool new board game (let the kids help choose!) and a few fancy snacks make a fun present for anyone: families, college students, singles and grandparents. Gift cards to restaurants also are a simple and fun treat. The amount doesn't have to be huge, especially if you choose a casual eatery or coffeehouse.
• Wrappings — Don't feel like you need to have an assortment of boxes, bags and bows. Choose one style, such as red bags with white paper, or even brown paper packages tied with white string. Both are easy for children to help in the wrapping. Plan ahead and have white index cards and colored markers handy for the kids to craft cute, yet simple, tags. Authentic kid-print will bring a smile to almost any recipient's face.
• Shopping — Remember last year when you hauled tired children around the mall? Avoid the crowds, the canned music and the endless marketing by shopping online. Instead of seeing something that "you just have to get" and finding out days later that it really wasn't necessary, shop in your pajamas from the comfort of your own home.
• Food — Plan a month of meals ahead of time. Include menus that can be made in the crockpot, pre-made and stored in the freezer, or made with convenience items, such as rotisserie chicken and bagged salad mixes. If the budget allows (or Santa brings an early gift), try a visit to a meal prep kitchen, where you can assemble several weeks of meals at one time, without the hassle of shopping or chopping.
• Entertaining — Rather than planning elaborate dinner parties, assemble an appetizer pantry. You know kids love snack foods! Purchase an abundance of olives, cheeses, chips, crackers, dips and frozen hors d'oevres, as well as a few bottles of bubbly juices and waters. Stock a supply of festive napkins and cups. You'll be ready for a fun cocktail party or drop-in visits from neighbors and friends.
• Desserts — Purchase several varieties of cake mixes (white, vanilla, spice, chocolate) and a bundt pan. Stock up on the basic ingredients (eggs and oil), as well as powdered sugar for dusting the finished product. In less than an hour you can prepare a yummy, yet elegant dessert. Bundt cakes are easy and quick and so accessible for the kid-size bakers in your home to help in the process. For variety, serve cake slices with flavored whipped creams, warmed pie filling, or hot fudge sauce.
• Movies — Prepare a stash of holiday movies to watch with friends and family. Don't depend on the local TV station to provide you with seasonal entertainment, or try to work your schedule around theirs. You get to set the tone for the season. Stock up on movies that fit your preferences. Purchase them, order them from Netflix, or reserve them from your local library ahead of time for the best selection. Don't just pop them in for the kids — be sure to watch them with your kids. They will enjoy making memories as you take the time to sit and cuddle for awhile.
With a little planning, a few deep breaths and a small degree of self-control, you, too, can have a Merry LITTLE Christmas. Make this year the one in which you relax a little more, laugh a little longer and enjoy making memories with family and friends.
Author Jessica Fisher is a wife, mother of six and freelance writer, who lives near San Diego, Calif. She regularly writes about family fun, frugality and the pursuit of a clean house at www.lifeasmom.com.