A Sensory-Friendly Experience at Children's Theatre of Charlotte
What makes these performances different for children with sensory-specific needs.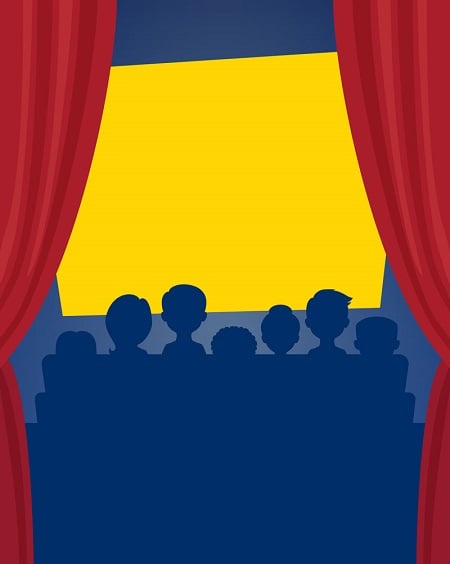 To be entirely honest, I was a bit nervous about taking my 11-year-old son Ty to see "A Year With Frog and Toad" at Children's Theatre of Charlotte. He has severe autism and had never been able to attend to an entire movie or any type of theater performance. When presented with noise and lights, Ty typically experiences some sensory overload. He also has a short attention span to anything that involves a lot of sitting. This performance was different.
Children's Theatre of Charlotte thought of practically everything that Ty, and other children with sensory needs, could need in order to make the show a pleasurable experience. Before we went, we were given a Child's Guide for the performance and the facility. The guide is written in a like a social story or a priming tool that children can use to prepare for unknown places or experiences. Fidgets and other hand-held sensory items, such as stress balls and weighted stuffed animals, are provided to assist children with self-soothing when needed throughout the performance. Headphones are provided for children who prefer a muted noise level. Lights are dimmed, but not completely out, and a glow light warns when something big is about to happen.
A quiet room also is available for any child who might need a break.
One of the biggest benefits to Ty (and to me as his parent) is the staff's knowledge of guests' potential needs. Twice during the performance, a staff member who clearly had been observing
Ty from the back of the theatre brought him an object that he might find soothing. When Ty put his fingers in his ears, another staff member brought him headphones. When he was moving quite a bit in his seat, someone brought him a weighted stuffed animal. I appreciated the staff's awareness and ability to anticipate Ty's needs and willingness to offer a solution.
The audience's understanding of children's special or sensory needs adds to the level of comfort. The audience clapped after each scene, but did it in a quieter manner. When Ty needed to bounce a little in his seat and even stand, no one was bothered. It was so nice to see my son comfortable without feeling any need to apologize for his behavior, even when that behavior is a bit different from others.
Ty was able to sit for 80 minutes of a 90-minute performance, something that I was not sure he could do. He smiled and loved the music throughout the performance. The staff was wonderful and so was the performance. We definitely plan to return for another sensory-friendly performance and recommend it to others.
Paula Williams is an exceptional children's coordinator in Charlotte Mecklenburg School's North Learning Community. She has 25 years experience teaching children and adults with disabilities. Ty Williams is a fifth-grade student at Blythe Elementary School. He enjoys surfing, swimming, horseback riding and music.
What to Know Before You Go
Children's Theatre of Charlotte offers these tips on how to prepare for a sensory-friendly performance.
• Visit Children's Theatre of Charlotte's special website (ctcharlotte.org/sensory-friendly-performances) to take a virtual tour of ImaginOn, the Wells Fargo Playhouse and McColl Family Theatre.
• Also on the website are downloadable performance guides that walk parents and children through the performance, with information on what to expect without giving away any show surprises.
• Read the book! The shows in Children's Theatre of Charlotte's 2016-2017 Mainstage season are based on books. Children and families can explore the stories together before coming to see the show.
• Buy tickets in advance. Only one-third of the house is sold for sensory-friendly performances so guests have plenty of space to move around during the show.
• Ask questions. If you have any concerns or questions about Children's Theatre of Charlotte's sensory-friendly performances, email Sarah Diener, sensory-friendly performance coordinator, at sarahd@ctcharlotte.org.