A Present Dilemma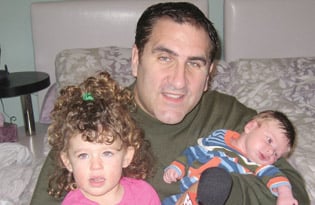 With the holidays right around the corner, I am dealing with daddy crisis No. 4,382. I am having trouble figuring out what presents to get my kids. My wife, Charisse, and I are buying gifts separately. That way the kids get twice as many presents, and we each get to experience the element of surprise along with Sage, 4, and Brayden, 1.
My wife bought her presents early. (In school, she was always doing her homework immediately.) On the other hand, I wait until the last minute. Unfortunately, this has proved to be a problem because I failed to consider that my kids already have tons of toys, thanks to Grandma, Grandpa, uncles, aunts, cousins, friends, well-wishers and neighbors. Good for them, but tough for the old man. I haven't felt this desperate since watching my Florida Gators stumble through the college football season.
Originally I planned to get Sage stuffed animals and dolls while showering Brayden with toy trucks and spinning tops. After checking her room, I realized if Sage gets one more doll, she'll have enough for a football team. And if Brayden gets one more truck, he'll be able to move said football team to a new stadium in a new city. In other words, it's time for Plan B.
Plan B originally meant getting Sage her favorite songs and buying Brayden a Boston Red Sox Jersey. But the Sox are an embarrassment. I cannot let Brayden be teased for following a team that not only had the greatest September collapse in MLB history, but allowed its pitchers to drink beer and eat fried chicken in the clubhouse during a game. And Sage likes contemporary music – that is, songs with suggestive lyrics, which means NO WAY. She also tends to like Barry Manilow. That makes her a Fan-ilow. The hottest Fanilow north of Havana. Sorry, I was off on a tangent. I'm back.
Time for Plan C. Hmmm, I saw some socks that would look good on both of them. (Socks? Oh my gosh, I've turned into either a fuddy-duddy or a KC Chiefs fan.) I know, I'll take them both to an amusement park. (Wait, it is December. That means probable weather issues.) Maybe I can explain to my kids that material gifts do not matter. The most important thing is love. (On the surface, this is true. However, I don't think I would have liked this explanation when I was 4, so I'm pretty certain the Snyder kids won't be thrilled with it either.)
If my children were older, I would slap coin and paper into their palm and tell them to get what they want. (I'll file that away for later.) But for now, I'm going to do the thing I should have done originally.
"Hi Sweetheart, do you mind if I add my name to your gifts? After all, we are a team, right? By the way, you look especially gorgeous today."
Bruce Snyder is the sports director at Fox Charlotte. He lives in Charlotte with his wife, Charisse, daughter, Sage, 4, and son, Brayden, 1.
?