A New Philosophy of Family-Friendly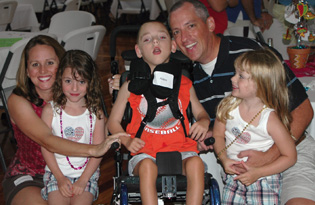 Many Charlotte-area businesses, including TIAA CREF, Charlotte Eye Ear Nose and Throat Associates, and Red F Marketing, made Carolina Parenting's N.C. Family-Friendly list. From top-notch benefits to creative programs and workplace flexibility, the mix of solutions embraced by each company is a win-win for employee and employer.
2010 N.C. Family-Friendly 50 Companies List
"We're hearing a lot more about this as a philosophy – workplace flexibility and 'family friendly' is part of the culture starting from the CEOs and filtering down," says Anna Millar of UNC Kenan-Flagler Business School.
Millar knows a considerable amount about family-friendly companies. She and Meghan Gosk job-share the position of senior associate director of the MBA program at the business school, which has been instrumental in reviewing applications and selecting Carolina Parenting's N.C. Family-Friendly companies for the past three years. Millar and Gosk have observed a more noticeable emphasis on workplace flexibility since their previous involvement in 2008. "We're excited to see cultural and philosophical changes. Treat your employees as professionals, and they will get their work done. That's what gets us excited," Millar says.
Work-Life Balance and a Tough Economy
What does "family-friendly" mean for young professionals and parents looking for work?
The bad news is that we are in the midst of a tough economy. Dawn Prince-Cohee, a Cary mom of twins, says she is hesitant to ask questions about a company's family-friendly culture. "It seems that in the current market, in which I have recently been applying and interviewing, it is somewhat out of the question to discuss work-life balance and family-friendliness. You just know that you are lucky to be sitting in a chair being interviewed."
The good news is that family-friendly companies are out there. "We strongly support companies having family-friendly practices," says Marsha Basloe, the executive director of Durham's Partnership for Children. "Not only is it good for the moms and dads, but studies have shown that it is also good for company productivity."
Creativity may be a hallmark of this economic downturn. According to Millar and Gosk, companies are looking for inexpensive ways to be supportive and employee-focused. "When gas prices increased, family-friendly companies encouraged carpooling and working from home," Gosk says. These sorts of flexible telecommuting policies are great for parents, especially new parents.
Holly Cannon, a new mom, recently took advantage of a telecommuting policy at her employer, Hannover Life Reassurance Co. of America in Charlotte, a 2010 honoree of Carolina Parenting's N.C. Family-Friendly 50. "The first month has gone by very quickly, but also very successfully. I can work in my office at home, I can spend time with my little girl, and I don't feel like I'm letting anyone down," Cannon says. "She gets what she needs from me, and my job gets the benefit of my abilities."
Wellness at Work
Millar and Gosk acknowledge that in this current economic state, there is a trend toward cost-cutting even among the most family-friendly companies. "We did find that health-insurance benefits seem to have declined," Millar says. Companies typically are requiring greater co-pays and higher premiums. However, because of this trend, companies are being a lot more creative about bringing wellness to work, she adds.
Gosk says companies are adding programs that focus on holistic health. "Companies are putting an emphasis on walking at lunch, hosting WeightWatchers meetings and quitting smoking," she says. As companies focus on a healthier work force, they can realize the benefits of less-expensive insurance and more reliable (fewer sick) employees. For example, Bayer CropScience and Cisco Systems (both in Research Triangle Park and 2010 Family-Friendly 50 honorees) offer subsidized fitness programs and have onsite fitness centers.
Take Advantage of Benefits
How does corporate cost-cutting impact people who are trying to break into this job market or those already employed? Millar and Gosk agree with Prince-Cohee's assessment that having a job trumps how family-friendly your company may be, but they also encourage employees to take advantage of what their companies offer. "Make sure you understand what is available," Millar advises.
Some of Carolina Parenting's N.C. Family-Friendly 50 companies have discounts at entertainment venues or corporate relationships with service providers. These benefits already have been paid for by the company; workers just need to take advantage of them. For bigger-ticket benefits – such as vacation time and flexible hours – some employees may feel there are unwritten rules about whether or not these apply to them. According to Gosk, when company CEOs are bragging about these corporate philosophies, it's hard for managers not to implement those programs. Employees need to ask for what they are entitled to.
Millar and Gosk also encourage employees to be the drivers of their workplace flexibility. "Do the work, prove your worth and show your value, then ask for what you need," Gosk says. Even in this economy, companies need loyal and hard-working staff members.
Flexibility Equals Loyalty From Staff
Alan Welch, an information systems manager with Kate B. Reynolds Charitable Trust in Winston-Salem, a 2010 Family-Friendly 50 honoree, says his employer does a great job offering flexibility and respecting the work-life balance. "Not only is there respect for the typical requirements of family life – be it parent-teacher meetings, (school) honor-roll ceremonies, late afternoon baseball games, occasional lunches together with kids or simply being home in time for dinner – there is also a sense of family amongst the staff," Welch says. "We are a large enough and talented enough staff to get things done."
Rob Lowry, father of two and co-owner of Spanish for Fun Academy in Cary and Raleigh, believes job-hunters and employees should look for a family atmosphere at their company. "There should be an obvious hierarchy so delegation can be implemented, but there also should be a warmth between co-workers and a genuine concern for the each others' duties and means to accomplish them," Lowry says. "Having a good support team behind you as an employee not only makes the employee successful at his or her job, but also gives longevity and stability, and clients can notice this."
5 A+ Attributes
Here are the top things Millar and Gosk consistently find in family-friendly companies that set them apart:
1. A culture of family-friendliness that is embodied daily at the company; it isn't just in a notebook in the human resources offices.
2. Flexibility is embraced – from telecommuting to flexible hours, employees are trusted to get the job done.
3. An understanding that providing access to health care and putting an emphasis on health and wellness provide a work-force advantage.
4. Realizing emergencies happen, and that employees, their children, their parents or their spouses could become sick or disabled. A company that can support an employee through a difficult time creates a community of loyal employees.
5. An understanding of what it means to be a parent – offering some of the following benefits: onsite day care or day-care subsidies, maternity and paternity leave, lactation spaces and backup child-care options.
Robin Whitsell is a Triangle-based freelance writer and mother of three.