A Kid's Guide to Talking to Grown-Ups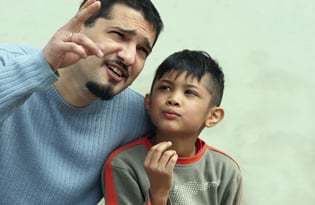 In a perfect world, your third-grader would greet grown-ups with enthusiasm and be the ever-so-helpful guest at every birthday party and play date. But interacting with adults can be daunting when you're a kid — especially if you're not sure what big people want.
You can help your child make his way in the grown-up world by providing guidance about what sort of behaviors adults like best in kids and providing opportunities for him to practice those mannerisms at home. Not only will your child be well received by his friends' parents and his teachers and coaches, the skills he'll learn now will stick with him throughout life.
As a grown-up, you have the inside scoop as to what traits adults find endearing — and irritating — in kids. Here are some tips to help pass on this useful knowledge to your child.
Saying Hello
Meeting someone new, particularly a grown-up, can be intimidating for children (we're bigger, after all, and we have the power to force them to eat broccoli). But you can remove a little of that fear factor by equipping your child with certain basic social skills.
By now, your child is old enough to introduce herself with a smile, make eye contact, voice an understandable greeting and shake a hand, says Dianne Marsch, director of The Etiquette School of the Carolinas in North Myrtle Beach, SC. Have your child practice her greetings first with you and then with other familiar adults, such as neighbors or a grandparent.
If your child's too shy to make eye contact, suggest she zone in, instead, on the adult's nose. "You can't tell the difference," says Marsch.
By taking the time to properly make an adult's acquaintance instead of hastily waving hi and zooming off to play, your child will make a positive first impression.
Addressing Adults
How your kids refer to adults (Mrs. Smith, Ms. Julie or Julie) often is a matter of preference — yours, as well as the other adult. Growing up, most of us wouldn't have dreamed of calling our parents' friends Susan or Bob; yet today's many kids appear to be on a first-name basis with almost everyone.
If you prefer your children not use first names, regardless of the adult's preference, teach your child to respond with, "Thank you. But my parents prefer I call you Mrs. Smith."
Talking to Authority Figures
Even if your child adores his teacher, he still may be hesitant to ask her a question or admit he needs help with a subject. "Kids this age can feel it's not their place to address an adult authority figure, like a teacher or coach. They need parental permission and guidance to build up the confidence to do so," says Michele Borba, author of "Twelve Simple Secrets Real Moms Know: Getting Back to Basics and Raising Happy Kids."
If your son brings home a math paper riddled with mistakes because he was too afraid to ask the teacher to explain the directions again, don't shoot off an e-mail to the teacher on his behalf. Instead, encourage your child to discuss the situation with his teacher. Practice what he should say and remind him of some simple courtesy rules: Don't interrupt her when she's talking or busy, and always say "thank you."
Hanging Out With a Friend's Parents
If your child wants to be invited back to a friend's house, or better yet, get asked to join the family on fun outings, her behavior needs to go above and beyond the expected niceties, like saying "please" and "thank you."
If she's staying for dinner, remind her to offer to help set and clear the table, as well as compliment the chef for the tasty meal. She can earn bonus points by picking toys before leaving, as well as thanking the parents for having her over to their home.
No doubt you'd enjoy having this polite helper in your house, too — and you can — simply by setting up lots of opportunities for her to practice her grown-up social skills at home.
Jeannette Moninger of Denver, Colo., is a freelance writer and mother of 9-year-old twin boys. Visit her online at www.jmoninger.com.
Beyond 'Yes' and 'No'
Let's face it: Kids who can hold their own while conversing with adults are simply more pleasurable and fun to have around. If you'd like for your child to go beyond monosyllabic answers when talking to adults, teach him these conversational building blocks.
1. Think in threes. For every question an adult asks, your child should be able to say three things about the subject. "Do you play soccer?" might evoke such an answer as, "Yes. I play center. My team's name is the Orange Crush. We practice every Tuesday and play games on Saturday."
2. Add on. The word "because" is a natural way to expand dialog. A child answering the above soccer question might add, "I love soccer, because I get to run and kick the ball. It's fun to play because I can get dirty."
3. Ask questions. Grown-ups aren't the only ones allowed to be inquisitive. By asking questions — "Did you play soccer when you were a kid?" — your child is actively engaging in the conversation while showing an interest in the adult.