A Good Sport: The Cycle of Life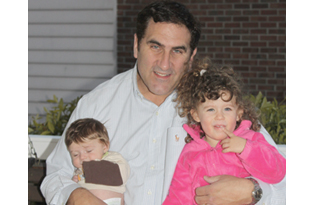 Sports, like life, comes in cycles. There are moments of great highs and devastating lows. A rookie is brought up to the majors on the same day a veteran retires. An athlete scores his first touchdown, while another suffers a career-ending injury.
Recently, off the field, I experienced a time of both celebration and despair. Our second child (and first son), Brayden, was born Nov. 17. He truly came into the world NFL big, making his game-day arrival at 8 pounds, 11 ounces. I was so excited to meet him, it was if I had run 50 yards for the touchdown, when the nurse put him in my arms.
But I was about to experience the circle of life … again. My father drove up from Florida to meet his first grandson. He held him, took his picture, and then 12 days after Brayden was born, Alfred Snyder passed away at the age of 78.
It was the second time death has followed life in our family. Three years ago, I brought my newborn daughter, Sage, home from the hospital. Days later, my 16-year-old dog, Sport, my buddy, died.
Why did  these things happen? I don't know. How did the events change me? Tremendously. I no longer take things for granted. Sage and Brayden had such a short time with their grandfather, but I'm grateful they were able to bond with him, if even for a brief period. I have promised myself to make sure my kids know what their grandad was all about.
I also make sure I appreciate my children and my wife every day. When my son spits up on me, I kiss him. When my daughter wets her bed, I hug her (and then change the linen … and my clothes).
To me, I think that's what the circle of life is really all about — not agonizing over the sad things, but appreciating the little things. Maybe that's my dad's legacy. Maybe that's what I'll pass on to Sage and Brayden.
Now if I could just figure out a way to get them to nap at the same time. Ahhh, but that's another rant for another time.
Bruce Snyder is the sports director at Fox Charlotte. He lives in Charlotte with his wife, Charisse, daughter, Sage, and son, Brayden.