A Good Sport: Packing with Kids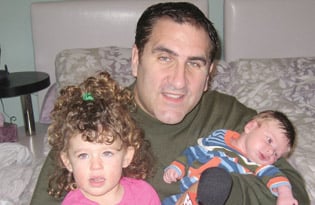 As a sportscaster, I've packed for many flights to assignments in other cities. In addition to the usual garments and toiletries, a location shoot requires camera and editing equipment, tapes, notebooks, an earpiece for live shots and, yes, makeup for television. It always seemed like a lot of stuff to pack and drag around.
But packing for a business trip is nothing compared to traveling with kids. This summer, my wife and I attempted something new: a vacation with two children. The destination was my in-laws' home in Montreal. The trip to Canada came with free accommodations, food and babysitters. My wife's parents borrowed and purchased toys, high chairs, cribs, diapers  and other necessities. So we thought, "How hard could it be to pack?" We were totally unprepared.
First, there was packing for the plane ride. My 3-year-old, Sage, spends most car rides trying to free herself from the child safety seat, so we knew the "fasten seat belt" sign likely wouldn't be much of a restraint. We filled one carry-on bag with games, toys and snacks for Sage, along with food, blankets, wipes and diapers for our 7-month-old son, Brayden. The mammoth double stroller and infant car seat was checked at the gate. Friends suggested Benadryl, but my wife and I decided that if anyone needed medication to get through this, it was the adults. Instead, we opted for sobriety to keep our wits about us.
Then came checked luggage. In the BC era (Before Children), I had an entire suitcase to myself. Now, I was limited to one compartment of one suitcase — enough space for a shirt, shorts, underwear, socks and pair of jeans. The rest of the suitcase was filled with Sage's extensive wardrobe.
Before the vacation began, there was the pre-game preparation. It was an afternoon flight, so my wife assigned me with the task of spending the morning of our travel day wearing out the kids. I took them to the pool and park, in the hopes that everyone would be so tired they'd just sleep on the flight. In the end, I was exhausted, while the kids were revved up by the excitement of going on a plane.
Needless to say we survived, and we arrived in Montreal safe and sound, making enemies of just a few passengers who were annoyed by our exuberance. We didn't wear or use half the stuff we'd brought; hence we learned  a few lessons for our next trip.
Despite the hassle of packing and traveling, it was worth it to get away. Vacationing was more work with kids along, but it also was a lot more fun. And, unlike a sports-casting trip, I didn't have to shave or wear makeup.
Bruce Snyder is the sports director at Fox Charlotte. He lives in Charlotte with his wife, Charisse, daughter, Sage, and son, Brayden.