A Good Sport: New Player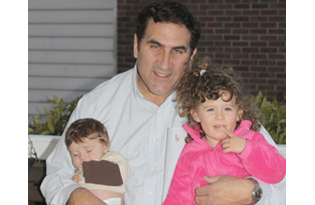 We have a new a new addition to team Snyder.
He's a player who has spent the past year kicking up a storm. He's a player who gets hungry at all hours of the day and night, and a player who can act like such a baby.
But I find myself cutting the guy some slack. After all, he's not even 3 months old.
Team Snyder has grown to four: me, my wife, 3-year-old Sage and Brayden, the rookie. I told my wife that if we could have just one more player, we'd have enough for a basketball team. But four is still enough to have a good game of doubles tennis — if I can get racquets small enough.
Speaking of which, Sage is making quite a racket over her new brother. Sage always has been Daddy's little girl. She always has been the center of attention. Believe it or not, Sage is the first baby born on my wife's side of the family in 30 years. None of the other brothers, cousins, or relatives have any kids … yet.
So Sage might be a teensy-weensy bit spoiled. Of course, I don't help the situation. I've always done whatever my little girl wants, whenever she wants it.
I find myself trying to get Sage, the star of our team, excited about our newest draft pick. When it's changing time, we go into Brayden's fish-themed nursery and have her pick out his new diaper and pull off his socks. I'm hopeful that if I make it sound fun enough, the veteran will welcome our freshman with open arms.
But she's doing a little hazing and making him jump through a few hoops before accepting him as her teammate. For example, she's intercepting his pacifier, jumping in his baby swing and picking off his blanket. When I hold my son, star player Sage makes sure to pile on me, lest I forget she's the first-round pick. When my wife and I pay too much attention to the baby, Sage makes sure she does something wild and destructive to steal back our attention, as if she's still trying out for the starter spot on the team.
But in the end, I'm confident she'll be thankful to have him as a playmate (someday), or at least an ally against her coaches, Mom and Dad.
Bruce Snyder is the sports director at Fox Charlotte. He lives in Charlotte with his wife, Charisse, daughter, Sage, and son, Brayden.