A Good Sport: I'm No Dick Tracy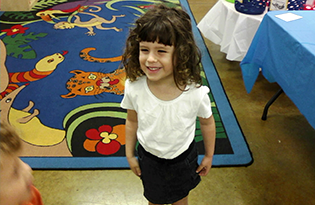 I am chalking this up to a learning experience. My story starts one fine Thursday morning. Sage and her preschool classmates were going on a field trip to a water park. I had no plans for the day, although my wife had several appointments, so she suggested that I go to the water park just to make sure Sage would be safe. After all, this was to be my daughter's first field trip without her parents.
Sage was not nervous. In fact, she was looking forward to the adventure. So I decided to go to the water park before her bus got there, but stay in my car, hidden. That way Sage wouldn't know I was spying on her, and I could make sure she was safe.
My plan had a problem. I thought I had parked in an out-of-the-way location, but I hadn't, and it was overcast and rainy. So instead of sunlight reflecting off my car windshield, Sage could see right inside. At one point her playtime brought her near my car. She recognized it, looked in, saw me and waved. I sheepishly waved back. Sage then went and got her teacher and friends to show them her nerd dad. Of course, the preschool staff had things well in hand. I was the only parent there. I didn't know what to do, so I did nothing, as if no one had seen me, even though 30 kids and three adults were laughing at me.
That evening when I picked up Sage, her first question was, "Why did you follow me?" I tried to tell her it was Mom's idea, but that theory got shot down in a hurry. When we had dinner that night, Sage retold the story to my wife, Charisse. Again I was the butt of everyone's joke. Sage then emphatically informed me that she is a big girl and I don't need to go on anymore of her field trips. Needless to say, my future as a private detective is in doubt. I guess I need to sharpen my spying skills before it's time for Sage's first date.
Bruce Snyder is a longtime sportscaster who lives in Charlotte with his wife and two kids, Sage, 5, and Brayden, 2.