A Good Sport: Dad on Assignment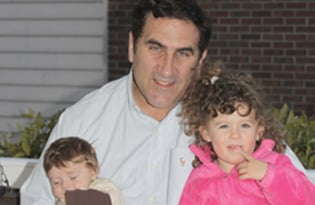 Spring is always a busy time for a Charlotte sportscaster. There's the PGA golf tournament at Quail Hollow and the NASCAR races at Charlotte Motor Speedway.
Thinking back a few weeks, I think my toughest assignment this spring was a more personal form of March Madness. I'm talking about my wife's first day back at work after maternity leave. Granted, she was only gone for a few hours, but it was my first time alone with both kids.
My wife warned me that my best defense was to be super organized. I thought she was a little ridiculous stocking the stroller with breast milk for Brayden, snacks for Sage, diapers, wipes, toys and what seemed like the entire house. I didn't think I really needed all that stuff, and I could do just what I always do on assignment: improvise. I quickly learned it's OK to "call an audible" on the athletic field, but there's no such thing as too much preparation in Dad's playbook.
Charisse left for her meeting, and I set off on the first quarter of the game: a walk to the neighborhood park. I had been warned to not leave our housing development and, thereby, maintain a home-field advantage. When Brayden, Sage and I arrived at the park, I encountered my first problem. I had to make sure my wild girl-child stayed safe climbing rock walls, monkey bars and slides, while I kept an eye on my cranky son. I finally found refuge in the swing, where my athletic daughter was contained with Dad pushing her with one hand and holding Brayden in the other.
My next problem came when Sage got thirsty, and I didn't have enough water. It was back to the house for a quick time-out before continuing on our walk. But no sooner had we set off again when a diaper change was in order. It was back to the house. I moved the action to the front porch, where I could call plays from the comfort of the clubhouse. Then another potty emergency — this time me. I thought, "When you're taking care of more than one child, how do you, the parent, go to the bathroom without life turning to chaos?" Apparently I had a lot to learn.
Eventually, I abandoned the outdoors for the comfort of the ultimate routine defense: the television. "Yo Gabba Gabba" may be weird, but it was cool enough to occupy Sage for a few minutes while fed Brayden. Then we all went upstairs for book reading and computer playing. I looked at the clock. "How could only an hour have passed since Charisse left?" Legos and Etch A Sketch helped run out the clock.
Mercifully, my wife's meeting was over quickly and she came home an hour early. I had survived, the kids had thrived, and I was ready for bed. The next time my wife went to work and I had the kids, things went smoother. Eventually I'll find my rhythm in this new coaching scheme.
Bruce Snyder is the sports director at Fox Charlotte. He lives in Charlotte with his wife, Charisse, daughter, Sage, and son, Brayden.