A Fall Activity Guide for Charlotte Families: 2020
It's still possible to safely enjoy some of autumn's beloved activities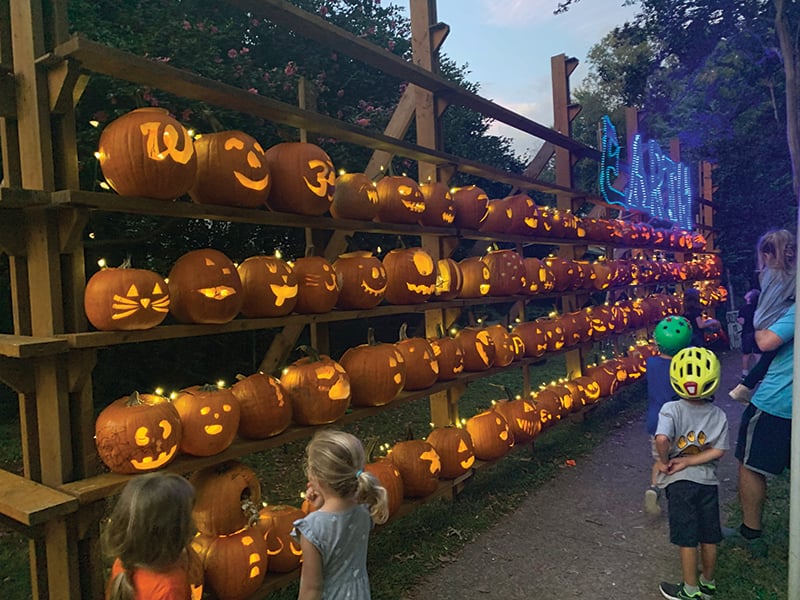 The Great Elizabeth Pumpkin Slated to Return

Come see the jack-o'-lanterns again—but keep it movin'
The 60-foot Halloween decoration in Elizabeth returns for its 16th birthday. Each year, residents line a towering shelf with gourds and typically add a positive, illuminated phrase like "Love" or "Earth." Especially this year, people need that seasonal cheer. "(We) feel like as an entirely outdoor event it gives us a chance to safely pull off an event for our community that everyone can look forward to," says John Short, co-organizer of Elizabeth Community Association and Charlotte magazine contributor. "Plus, the first one was during an election year, so we want to uphold that tradition."
The wall debuted in 2004 as a private effort at 537 Lamar Ave., with the word "Kerry" lit to show support for that year's Democratic Presidential nominee. In 2005, then-N.C. Senator and future Mayor Dan Clodfelter hosted the decoration in his front yard. Since the neighborhood association took over in 2013, the wall's become less overtly partisan—although it can be fun to see the messages and faces that adorn the hundreds of jack o'lanterns that line the shelves.
This year's word or phrase? Plans were still in the early stages as of press time, but here's a suggestion with a double meaning for Halloween 2020: "Mask Up."
---
It's Just About Pickin' Time
A pumpkin patch guide for Charlotteans
> SEE OUR GUIDE TO APPLE-PICKING HERE
With ever-changing restrictions over the summer, area farms adopted "U-Pick" programs to let visitors who like to get their hands dirty stay safe. Below, we've rounded up sites that will stay open this season and intend to be your pumpkin providers:
Hodges Family Farm
3900 Rocky River Rd. E
Tip: Reedy Creek Park is a 5-minute drive from the farm. On a gorgeous fall day, both spots are enchanting.
Millstone Creeks Orchard
506 Parks Crossroad Church Rd., Ramseur
Tip: As you can tell by the name, this farm is also known for its apple fields. Fuel your pumpkin-pickin' with Millstone's beloved cider.
Bush-n-Vine Farm
1650 Filbert Hwy., York, S.C.
Tip: If you don't want to risk bumping into a crowd, you can order ahead to get your pumpkins and still support the local farm.
Hunter Farm
13624 Providence Rd., Weddington
Tip: After mid-November, Hunter swaps out its pumpkins for Christmas trees.
Wise Acres Organic Farm
4701 Hartis Rd., Indian Trail, N.C.
Tip: The Wise Pie Wood-Fired Oven Pizza is worth the usual lines; just take it to a properly distanced bench before returning to the pickin'.
---
Scenic Drives Near Charlotte
You don't need to venture far to see seasonal splendor
Crowders Mountain Drive
Length: 8 miles
Distance from Charlotte: 28.7 miles
Crowders Mountain State Park is a hotspot for climbers and hikers, and it's impressive from the winding road that snakes through its peaks. The 5,210-acre state park is also worth its own visit, with more than 10 trails of varying degrees of difficulty.
Cherokee Foothills Scenic Highway
Length: 119.8 miles
Distance from Charlotte: 54.2 miles
Parks and orchards line S.C. Highway 11, also known as the Cherokee Foothills Scenic Highway. As one might guess from the name, the road was once used by the Cherokee—as well as French and English fur traders, hundreds of years ago.
Indian Heritage Trail
Length: 18 miles
Distance from Charlotte: 56.9 miles
Aside from its charming fruit stands and small towns, this trail also leads to Indigenous archaeological and historical sites. The Town Creek Indian Mound in particular offers a window into the Pee Dee people who built it more than 400 years ago.
---
Carolina BalloonFest Changes Direction
No crowds this year, but balloons will ascend again
For its 47th year, the Statesville festival eliminated public attendance, from technicians and pilots to the thousands who arrive to watch them soar each year. The nonprofit behind the festival, National Balloon Rally Charities, still plans to work with local pilots to make sure balloons ascend above Iredell County in October for a tribute event.
Details will be posted on the event's site and social pages, so just keep looking up.
---
A New Public Art Hunt
Several new murals were added to Charlotte walls (and roads) this year, like the above piece by Nick Napoletano in South End that honors hospitality workers. Its title: "From the stillness a seed of hope is planted."
OTHERS:
» "Black Lives Matter," Alex DeLarge / 1721 N. Davidson St.
https://www.instagram.com/p/CBIncCUl-KU/
» "Strange Fruit," Dammit Wesley / 2320 N. Davidson St.
https://www.instagram.com/p/CEU9QH9JfWg/
» "Booker T. Washington," Georgie Nakima / Booker Street and Beatties Ford Road
https://www.instagram.com/p/B-AshLkpMx0/
» "Get Outside," Gina Elizabeth Franco / 917 Romany Rd. (literally on the road)
» "Dilworth Tasting Room," / Darion Fleming / 300 E. Tremont Ave.
https://www.instagram.com/p/CAQb7bNpxON/
---
Drive-In Films
The drive-in movie theater inspires nostalgia, and three dwell within an hour's drive of Charlotte. Screenings usually begin at dark, as is the drive-in theater way. Each theater rents radios so moviegoers don't have to drain their car batteries during the show. (If you do, take heart: They have jumper cables, too.) Read about the spots below:
Hounds Drive-In Theater in Kings Mountain
Distance from uptown: 33 miles
This cash-only spot shows new films on two screens, with double features Friday through Sunday. Outside food and drinks are banned, but Hounds has a robust, affordable menu with popcorn, soda, and candy and heartier offerings like hamburgers, pizza, and hot dogs. Gates open at 6 p.m. 114 Raven Cir., Kings Mountain.
Badin Road Drive-In in Albemarle
Distance from uptown: 45 miles
Double features run Friday through Sunday, with two screens that show new films. There is no stated policy on outside food and drinks. Also: Wi-Fi. Gates open at 6 p.m. 2411 Badin Rd., Albemarle.
Sunset Drive-In Theatre in Shelby
Distance from uptown: 50 miles
Also cash-only, this spot is the cheapest of the bunch if your party includes at least two adults. Like Badin, they have concessions, but outside food is allowed. Shows run on Friday and Saturday. Gates open at 6:45 p.m. 3935 Sunset Blvd., Shelby.
---
The Lantern Festival Returns
Originally scheduled to kick off in August, Chinese Lantern Festival lights up Daniel Stowe Botanical Garden (6500 S. New Hope Rd., Belmont), Oct. 15-Jan. 3. This year's festival, which will observe COVID-19 capacity and distancing restrictions, will have hundreds of new lanterns "constructed by masters of the craft in Zigong, China, where the festival originated centuries ago," organizers say.
Hanart Culture, the production company behind the show, first brought the festival to the garden in 2017 and garnered more than 100,000 visitors. For this year's event, guests pick specific entry times, and the garden imposes an attendance cap for the 15-acre site.