A Day at the Carolina Renaissance Festival With Kids
Use this as your guide to exploring 'Ren Fest' as a family.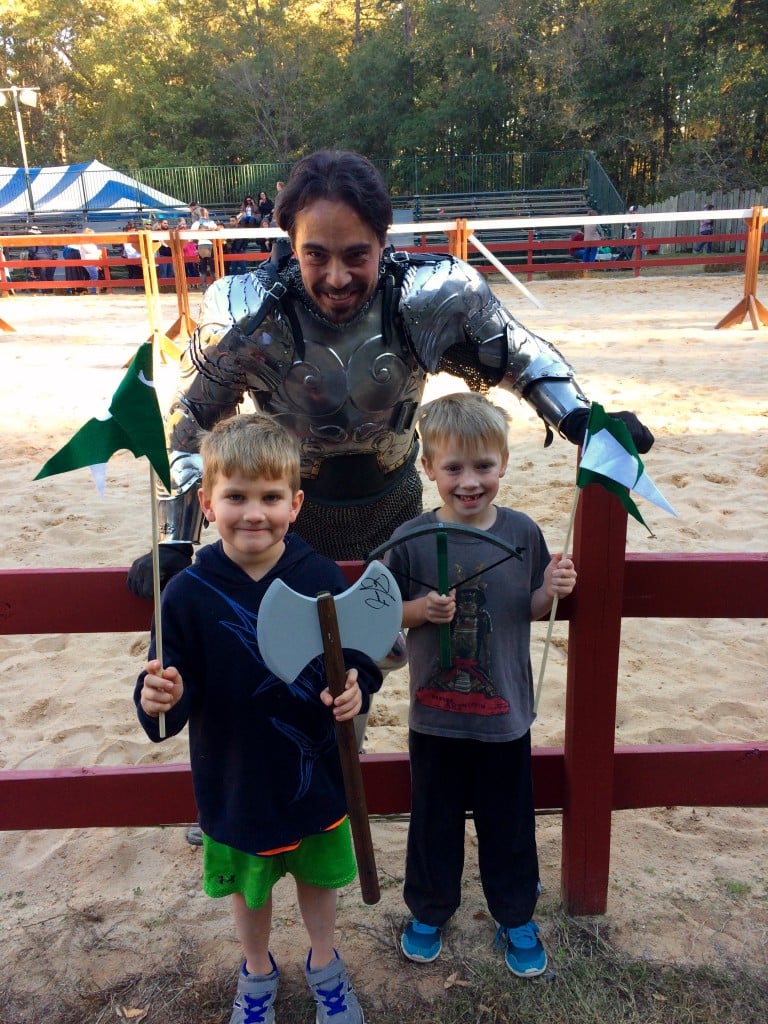 My first venture to the Carolina Renaissance Festival was in its very beginnings, and I was was with a couple friends. I'll admit it didn't wow me. When friends from Asheville reached out this year to see if my son and I would like to join them and their 6-year-old, who is very zealous for all things knights and swords, at Ren Fest, I decided why not? I'm glad I did.
In its 23rd year, the Carolina Renaissance Festival takes place on 25 acres between Huntersville and Concord (Highway 73 at Poplar Tent Road) for eight consecutive weekends each fall. It's a mix of medieval amusement, including a 12-stage theater, arts-and-crafts fair, jousting tournament, rides, climbing wall, feasting and costumes.
We arrived around 11:30 a.m. on Saturday, and lines were growing at the gate as the massive field/parking lot was filling up, but it took no time to get tickets and through the gate. Once inside, you find yourself in a medieval village. We started with a photo op for the boys.
PHOTO BY MICHELE HUGGINS
This duo of knights really believes it can slay a dragon.
---
Entertainment
We picked up an entertainment schedule and map to be sure we didn't miss some of the best shows for kids. We lucked out with the perfect timing to see Gypsy Geoff and his Fire Circus Show on the Fairhaven Theatre stage. The boys were enthralled by the fire juggling, and watching Geoff balance everything but the kitchen sink on his chin. A group of kids were also invited on stage to be part of the show, and Geoff did a good job of keeping it lively and the audience engaged. The show is free to see, but a tip for the performer is welcome, so come with some cash.
We also saw part of the Rick the Hypnotist's show which was pretty funny to see the folks on stage react while under hypnosis.
---
Costumes and Shops
We moved on from the Fairhaven Theatre through an alley of shops where the boys couldn't resist stopping in the costume shop and trying on a few things, and popping into the sword store to wield a wooden ax and sword … or four.
---
Feasting
We opted for lunch next. The turkey leg gets a lot of hype and there are plenty of people choosing to have one, but you can also get pizza, fried macaroni-and-cheese bites, fish and chips, burgers and chicken on a stick. I also tried the sweet-potato turnover which is real similar to a certain fast-food chain's apple turnover. Tasty treat. There also is plenty of beer on tap for the grown-ups. Guests aren't allowed to bring food, but I recommend bringing a water bottle.
---
Dungeon Museum
Nearby the food court is the Dungeon Museum and Climb-A-Lot Tower. My 7-year-old was real interested in checking out the Dungeon Museum, but while he was out of earshot, I asked a mom, who happened to be walking out with her family who also had a son who looked similar in age, what she thought about the dungeon. With a curious look on her face, she said it opened conversations she wasn't ready to have about torturing devices. We opted out on that one as what she described sounded pretty graphic.
---
Climb-a-Lot Tower
Next up was the Climb-a-Lot Tower. With determination and some encouragement from the sidelines, he made it to the top. This definitely was one of the highlights of the day for him. It's $5 to climb, but worth it. Most games cost extra, between $1 and $5.
---
Blacksmithing
Another fascinating display for the boys was blacksmithing — curiosity meets history.
---
Jousting Tournament
And last but certainly not least was the jousting tournament. It was mesmerizing, albeit a bit medieval violent, but it's performance arts for all.
---
Rides, Falconry and So Much More
The boys also enjoyed a spin on the Da Vinci's Flying Machine, a man-powered amusement ride, meaning two guys push the kids to get them flying and spinning. (I hope those guys get paid well because that's some work!) It's just one of many rides. We missed the Falconry and throwing tomatoes at Vegetable Justice (though I heard the guys yelling at the crowd can be a little unsettling). There's also a petting zoo and more rides for little ones. All and all it's a great place for a day of fun with the family.
---
Tickets
At the gate, tickets are $24 for adults, $14 for kids ages 5-12. Children under 5 are admitted free. You can save a dollar on ticket prices by purchasing online or at a local Harris Teeter. You can also save on a $14 children's ticket if you pick up a coupon for greater Charlotte-area sponsors: Chick-fil-a, AutoBell, Party City and Jersey Mike's (while supplies last) and present it at the gate. The 2016 Carolina Renaissance Festival is open through Nov. 20.