A Date Day North of Charlotte
The latest in our date night series takes us to Davidson, Cornelius, and other locales north of the city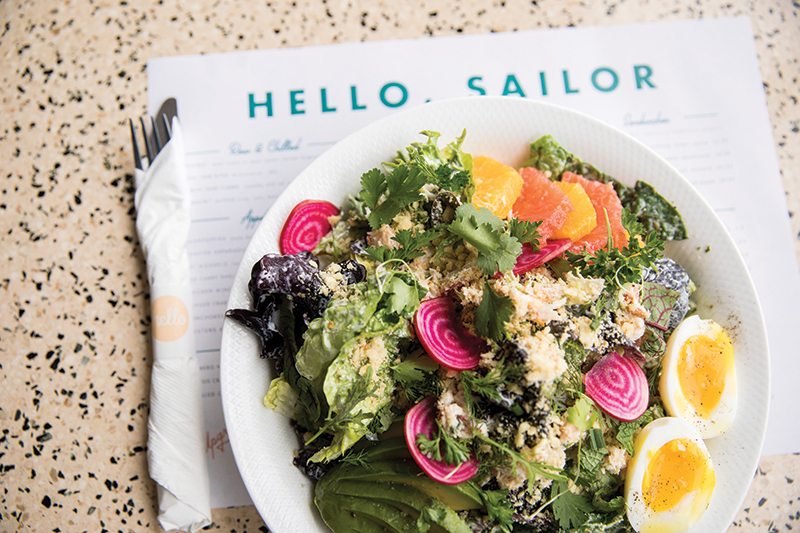 One of the best parts of living in Charlotte is easy access to both the mountains and the beach for all of your weekend getaway needs. When you're not able to get out of town though, you can still step away from the city and get your fix of natural beauty. This date-day, consider leaving the kids at home, getting away from the business of uptown and enjoying some time north of the city.
To start your date day, connect with nature either on the water or off. If you like to boat, consider renting a pontoon and spending the morning sailing. There are several businesses in Lake Norman that rent boats by the half-day to meet all your morning cruising needs. While you're on the boat fish, relax or simply taking turns cruising to different parts of the lake. If you're a little more adventurous, rent Jet Skis instead and race one another around the lake as you explore all the area has to offer.
If you'd rather stay next to the water as opposed to on it, consider taking a long, kid-free hike at Lake Norman State Park. With trails ranging from .15 miles up to 30+ miles, you'll be sure to find a hike that suits your activity and experience level.
Whether you spend your morning on the water or off, you're going to need lunch while you hike or cruise. Consider planning ahead and picking up a picnic lunch from the Pickled Peach in Davidson to take along on your adventure. The Pickled Peach, located at 202 South Main Streets is a restaurant, cafe and market and offers a full menu of salads, sandwiches and wraps that are as tasty as they are filling and healthy. This farm to table establishment is a local favorite and will help you pack a picnic basket you'll be looking forward to all morning.
After boating or hiking in the morning and eating a delicious picnic lunch, you'll be ready for more adventuring in the afternoon. If you love small town charm you'll appreciate spending the afternoon strolling or biking around Davidson as you get to know one of the city's sweetest suburbs.
If you like to bike, consider bringing your own bikes or renting from one of the areas main street bike shops and taking a ride around the college campus as well as through downtown. If you and your partner prefer a good stroll, walk the college campus or spend time walking up and down main street which is home to a range of charming shops and establishments. As you shop, consider stopping in at The Soda Shop for an afternoon milkshake. Offering a full range of flavors, this spot is a local favorite and a draw for tourists alike.
As the afternoon fades to evening and the shops along Main Street in Davidson begin to close, you and your partner will probably begin to get hungry for dinner. Luckily, you've got lots of options when it comes to a choosing a delicious restaurant to cap off your evening.
If you're aiming for waterfront you have several great restaurants to chose from. Port City Club in Cornelius, a uniquely designed 13,500 sq. foot restaurant located directly on the lake that has several cheerly decorated dining areas and a covered, heated deck, all with views of the lake. Their menu has all the classics from salads and burgers to steaks, seafood, pasta and flatbreads that will leave you full and satisfied.
Another waterfront option that will leave you more than pleased with your dinner choice is Hello, Sailor, also in Cornelius. Hello, Sailor is a favorite among locals and tourists who are drawn to the establishment for their fresh, fun décor, delicious cocktails and ample menu that has something for everyone to enjoy. Try the hushpuppies as an appetizer and, if you're looking for a real treat, the baby back pork ribs & Carolina shrimp calabash for dinner.
If you're interested in staying in Davidson, consider the North Harbor Club, another waterfront restaurant with a menu that wows. In addition to a full dinner and bar menu, the North Harbor Club boasts a hearty dessert menu that will allow you to end your date day on a sweet note.
With a day as full as the one you'll have up north, you'll be tired and happy by the time you head home. Enjoy your date day up north parents!
Julia Pelly lives in southeast Charlotte with her husband and two young children. When she's not writing, you can find her hiking, exploring the city with her husband or pushing her children on their backyard swings. Find more of her work at juliapelly.com.