A Dad-and-Son Day at Carolinas Aviation Museum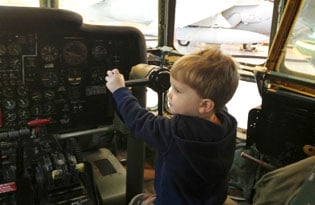 Carolinas Aviation Museum
4672 First Flight Drive
704-997-3770
carolinasaviation.org
Free-$11.
"That one is broke daddy,'" says my 2-year-old son as we stare at the wreckage of the famous flight that touched down in the Hudson river in January 2009, now housed in the large hangar at the Charlotte Aviation Museum. "Broke" would probably be a bit of an understatement. At the time we visited the museum the plane had not been reassembled, and it occurred to me what a rare thing we were witnessing. The fuselage with the wings torn off and sitting off to the side, landing gear and other parts were in disarray.
The plane from the "Miracle on the Hudson" Flight 1549 is probably the most eye-popping exhibit of the dozen or so planes and helicopters in the indoor portion of the Carolinas Aviation Museum, but there are also the Tomcat fighter planes that kids can sit in, the CH-46C Sea Knight, and the bright chrome and blue DC-3. The museum has about an equal number of commercial and military aircrafts, and a handful of civil/personal aircraft exhibits, plus cases filled with flight suits and memorabilia, a dozen scale models, and assorted airplane parts.
The aircrafts are roped off in most cases, and kids have a wide berth to explore with clearly marked boundaries. There is an exhibit with the cockpit of a refueling tanker that the three kids in my group loved. For full effect, small groups are brought into the tanker and allowed to sit in the pilot, co-pilot and navigators' seats. The doors are then closed, and the exhibit guide takes the group through the airborne refueling process.
The staff is really helpful and provides enough information to the adults to keep things interesting. They are also patient with the kids who mostly want to climb around the cockpits and flip switches.
The entrance to the museum is through the gift shop. We managed to corral the kids though this room at the start of the visit by promising them we'd make a stop on the way out. As gift shops go, this one is pretty well-thought out. There is a long shelf on one wall at kid level that holds a few dozen inexpensive toy planes. My son looked past all the 747s and fighter jets, and chose the red fire engine on the end. As impressive as the museum planes are, his young heart is with the fire department.
It was starting to rain when we left the main hangar, so we are saving the outdoor exhibits, which include a few more planes and a view of Charlotte International Airport's runway, for another day.
Matt Venendaal lives in Charlotte and loves teaching his son about the finer things in life – trains, planes, tools and pasta.