A Crafty Date Night in the QC
The latest in our series on parent outings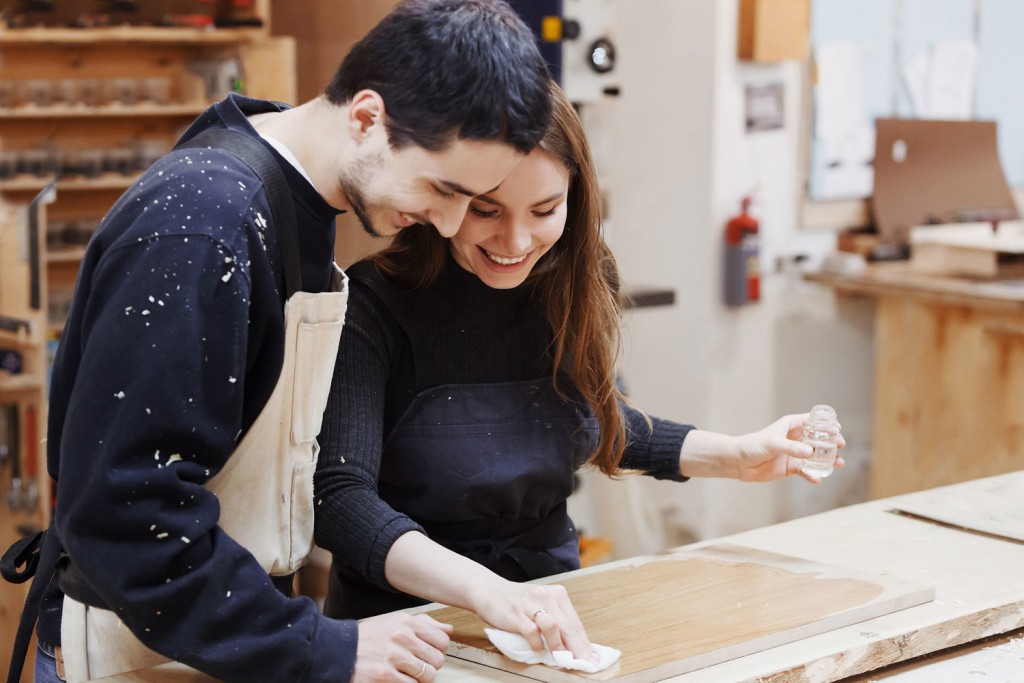 If you and your sweetheart are young at heart and always up for an adventure, consider ditching your date-night go-tos and trying out something new on your next kid-free evening.
This month instead of fighting for a Friday or Saturday night sitter, opt to go out on Thursday instead and enjoy the next Make and Mingle at Discovery Place. The series, which takes place the fourth Thursday of every month, is an adults-only craft workshop at Discovery Place Science. While there, you'll enjoy creating a hands-on project like a wooden phone-docking station, a 3D printed beer stein or a wine rack with the support of a museum educator, who will walk you through how to use various tools and techniques without limiting your creativity. You'll also enjoy light hors d'oeuvres and a glass of beer or wine.
Another option: consider enrolling in a SkillPop class with your partner. The service is a community-driven way for people to access in-person classes on a variety of subjects, offers one time courses on a range of subjects including everything from abstract watercolor prints to the art of crafting the perfect cheeseboard. Learning new things with your special someone is a great way to connect and expand both of your skills, plus you might find a new hobby you can enjoy together. Skill pop classes are available at locations across the city on almost every night of the week, though you may find you need to sign up a few weeks or even a month in advance for the most popular classes.
After utilizing one of these outlets, continue the date night fun by driving or, if you're already uptown, taking a scooter, to South End to enjoy dinner at Hawkers. Hawkers, a South End favorite located at 1930 Camden Road, Suite 260, sells Asian street fare that is sure to leave you full and happy. Order a range of small plates to share with your partner and enjoy sampling all that the restaurant has to offer.
If you're still hungry after dinner, you'll only have to walk a few steps from Hawkers to get to Jeni's Splendid Ice Creams. After making, mingling, dining and desserting, you'll probably be in the mood for a little bit of fun. Leave your scooters uptown and head towards NoDa to spend time at Abari Game Bar. Abari game bar is home to a full bar as well as over 50 classic arcade games, pinball machines and classic game consoles. Challenges your sweetheart to a pinball tournament or take turns cheering each other one as you play game after game.
This date night enjoy making something, eating something, and playing something with your special someone and you'll build a deeper connection that will help you get through the less glamorous parts of marriage and parenting. Enjoy date night parents!
Julia Pelly lives in southeast Charlotte with her husband and two young children. When she's not writing, you can find her hiking, exploring the city with her husband or pushing her children on their backyard swings. Find more of her work at juliapelly.com.