A Confident Column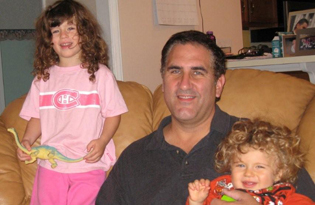 Most successful athletes, and for that matter, most successful people, will tell you confidence is a big part of the equation. This also applies to children.
The other day, before bedtime, Sage read a book out loud. The next morning she went to her easel and started writing her name and other assorted words. I am so proud of her! You see, Sage was a bit of a late talker, but she's tough. She has worked hard to overcome her difficulty, and now she speaks flawlessly with pride and enthusiasm. In fact, I'm thinking of letting her audition to be an announcer for the Bobcats or Checkers.
With her confidence flying sky high, Sage decided to take it to the next level. She picked out the classic book "A Bear and a Box" and read it to Charisse, Brayden and me. The look on her face while we applauded said it all. Sage looked proud, and I felt like I had just won an Olympic gold medal.  
Don't take confidence for granted. The Bobcats didn't, and it only took them 12 games to equal their win total (7) from all of last year. Confidence also seemed to be part of the Panthers' problem. Going into the fourth quarter with a lead many times, the team would wait for something bad to happen. And many times it did. 
Brayden is developing confidence, too. A few weeks ago when we said the word "go," he said "guh." He had never tried to imitate us before. We praised him and his face lit up. He started clapping and imitating our actions and our words. Soon his vocabulary grew from one word (mama), to many (car, night-night, rabbit, dadda, purple and bubble, to name a few). Now he's trying to communicate with us verbally and nonverbally. Confidence is amazing. I will never underestimate it again. And I have confidence that both my children will make this world a better place to live. 
Bruce Snyder is the Fox Charlotte sports director. He lives in Charlotte with his wife, Charisse, 5-year-old daughter Sage and 2-year-old son Brayden.