A #Blessed Thanksgiving in a Social World
Your guide to pulling off an Instagrammable Thanksgiving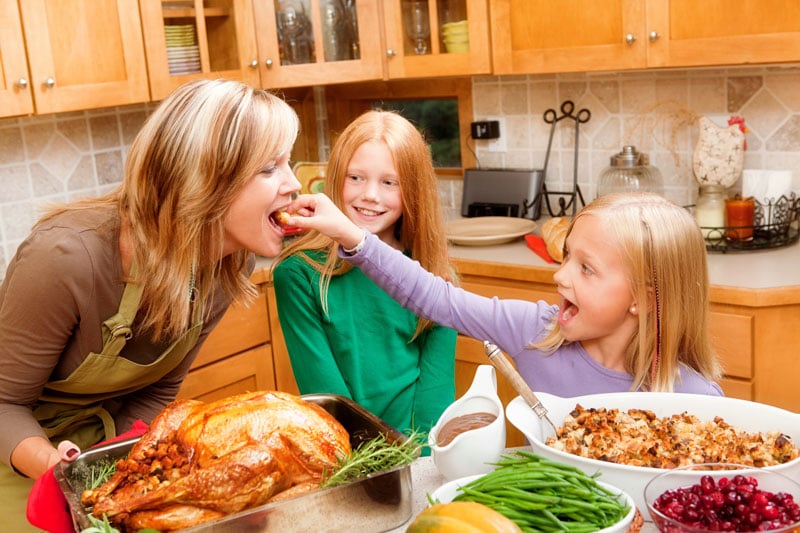 In the midst of busy schedules and constant on-the-go living, Thanksgiving remains an opportunity for family togetherness — or so we hope. Surrounded by Pinterest perfection and filtered lives, we could use a guide to creating the memorable holiday gatherings we've always imagined … or at least seen on social media. If the moments happen to be Instagram-shareable, well, that's even better.
While we may hope and aim for perfection, the truth is that many of us experience a holiday that is a bit more … ahem … authentic in nature. So scroll right on by those posed Pinterest pictures and instead try this guide for a more realistic approach to the day.
---
Make Your Game Plan
On Thanksgiving Eve, pick up your pre-ordered feast in a box from your grocery store of choice. Then carefully hide all the pre-made items in the fridge before your mother-in-law has a chance to see them. Disassemble the box and bury it deep within the recycle bin to hide all evidence of the fact that you are not Paula Dean.
On Thanksgiving morning, wake earlier than on a normal day. Don't worry about getting dressed. You still have hours before mealtime, so set aside the outfit you have mentally coordinated for days. You can put it on after your shower.
Preheat the oven and get the turkey in before your mother-in-law wakes. (Yes, the bird may be pre-cooked, so it's really a matter of warming, but the smells of cooking turkey are very important in pulling this all together).
Your next major task is to make the coffee — all the coffee. Uncork the wine, so it can breathe, and some of it may need to breathe in your wine glass. Wine before coffee is completely acceptable on a holiday, so feel free to sample away.
---
Crafting With Kids
Once your necessary drinks are in order and the turkey is warming, turn your attention to the craft project. The kids and your mother-in-law will stay out of the kitchen if you occupy them with a task. Not to mention that kids and grandparents making crafts is Instagram gold (#blessed #loveourfamily). Choose a project that keeps them focused and bonding with one another.
With the proper distraction in place, head back to the kitchen. Sample that wine again and then pull the other pre-cooked dishes from the fridge. Scoop them into your own baking dishes and pots. Pull some spices from the cabinets and sprawl them around the counter for the home-cooked appearance. Sprinkle some flour on your cheeks for an authentic baker look.
Even though your main job in preparing the food is simply to warm it, don't forget to snap pics of any especially colorful or Instagram-worthy items (#cranberries #colorsoftheseason #blessed).
---
An Hour Before Meal Time
Wake your husband. When you check on the craft project, make sure your effort shows, but not too much. You don't want your mother-in-law asking how she can help in the kitchen. Strike just the right balance of hard working, yet content. When you realize the kids have totally ignored the tutorial you found on Pinterest, simply snap a photo and post (#blessed #creativekids).
Upon returning to the kitchen, locate all burning smells. Remove those items from the heat and stir. Refresh your social media feeds for the most recent like-count, and continue to sample that breathing wine as frequently as necessary.
With mealtime approaching, dust off your wedding china that you used that one time because the kids asked why some dishes are decorations and others are for eating. Do your best to locate glasses without water spots. Search for a YouTube tutorial on how to fold napkins. Then decide to go with rectangles instead once your swan takes a dive.
---
The Feast
Gather the family around the table and explain that you'd like a family selfie before you start eating. Get everyone in position and snap a photo. On review of family selfie, you realize you haven't changed or showered. Forget the selfie approach and take the photo of the rest of your family members. Post (#blessed), taste the wine and give thanks.
---
5 Ways to Achieve Family Togetherness
Let's face it, perfect holiday gatherings don't exist, but family togetherness can. Sometimes it takes a nontraditional approach to the day. Try one of these five options to make memories this Thanksgiving.
Prepare the feast together. Yes, that will require letting go of perfection and creating a bigger mess if kids are involved, but it will also teach life skills and give you plenty of time together.
Let the kids plan the day. With work, school, sports and other activities, families don't often have an entire day to spend together. Intentionally set aside a day over the Thanksgiving weekend for the kids to plan how to spend it. Give them a budget and other necessary parameters. It might break with tradition, but could lead to lasting memories.
Run a 5K race. Through training and race day, this is sure to bring a family together and perhaps even become a tradition. Not to mention it can help burn off the mashed potatoes, gravy and pumpkin pie.
Have a binge-fest. Every family has a propensity for something; maybe it's football or Harry Potter or HGTV. Whatever that thing is, spend time connecting through that shared love, even if it means some binge watching must take place.
Make it a game day. Once the table has been cleared, spend the rest of the day playing games. Have a foosball tournament, set up corn hole, invite the neighbors to play football or strategize over Settlers of Catan. Choose an activity (or a few) that engages the entire family.
---
Meagan Church is a writer, children's book author and the brainpower behind unexpectant.com, which explores the story of modern motherhood. She lives in Charlotte with her high school sweetheart, three children and a plethora of pets. Connect with her on Twitter (@unexpectant).