Yoga for Kids
Inspiring health and happiness for children of all abilities and ages.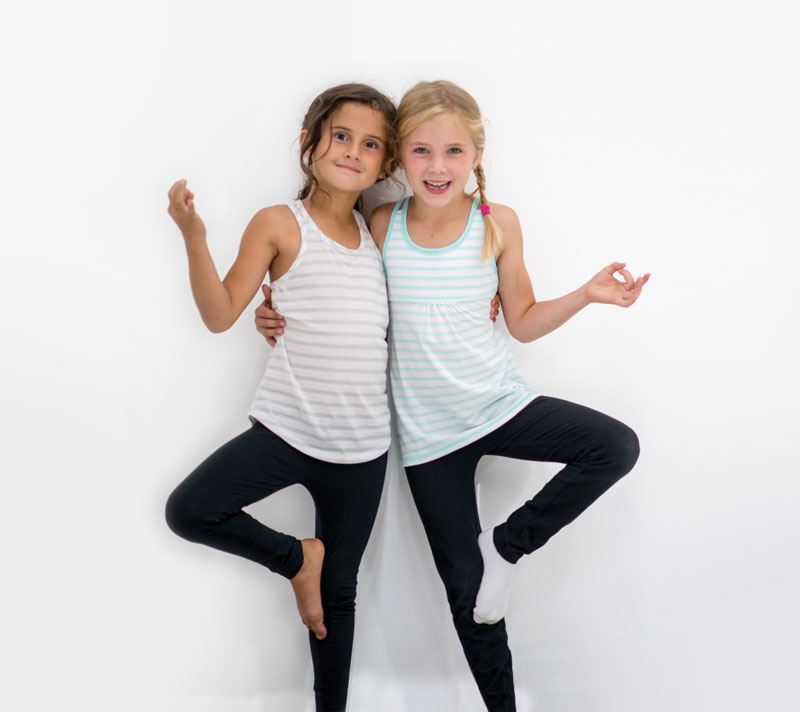 Kids today have more options than ever for sports and physical activity. Yoga particularly seems to be popping up all over the place, from schools and studios to summer camps and even libraries. Why has yoga become so popular? According to experts, yoga offers many physical, mental and emotional benefits for children, including kids with special needs. So strike a pose and let's get to them.
Physical Benefits
Kids build strength, balance, coordination and flexibility as they learn how to fold and stretch into various poses. Certain kinds of yoga practice can also provide a great cardiovascular workout. This means yoga can be a comprehensive fitness alternative on its own or it can be useful in cross training for other sports.
Yoga also eliminates some barriers to participation that exist in other athletic pursuits. Where traditional sports can often be competitive and time consuming, yoga can be done anywhere at a person's own pace, with a group or solo.
"You don't have to have two years of lacrosse to make the team," says Jessica Weill, a certified yoga teacher and president of the nonprofit Weill Fitness Inc. that specializes in serving children in the underprivileged and special needs community. "It's about bringing kids together."
Kids of every age and ability can participate in yoga. But if you're expecting a room full of perfect Tree Poses, think again.
"You understand that some of the kids are going to be squirrelly," says Sarah Henderson, a certified yoga instructor who has worked extensively with kids in the Charlotte area.
Yoga for kids tends to be playful with an emphasis on joy and exploration rather than exactitude. Part of what makes it fun for kids is the creativity that goes along with it. Henderson often uses props like bean bags or scarves and storytelling to help the kids visualize poses and develop their practice of yoga.
Yoga also promotes body awareness. As kids push themselves to stretch a little further or try a new pose, they discover what they are capable of doing. Because yoga can be adapted for any fitness level, it meets children wherever they are physically. It can be just as useful for helping a child struggling with obesity as it is for a star athlete.
"One of the things [yoga] can do for kids is teach them a love for their bodies," Henderson says. But yoga is more than a physical challenge. "Yoga is exercise for your brain and your body. You need both of them to show up to be successful," she says.
---
Mental and Emotional Benefits
Developing the ability to concentrate and focus are important components of yoga. Henderson, mother of three, has seen the benefits on her own kids. Mindfulness and meditation techniques have helped her middle daughter deal with mild ADHD symptoms without the use of medication. Likewise, her youngest son has used breathwork (focused breathing exercises) to deal with severe anxiety.
"Adults use [yoga] more as a fitness tool," Weill says. "I think for kids, it's not only fun … but it's giving them life tools."
As kids deal with various stressors in their lives, yoga practice offers specific strategies to help them focus and restore calm. Breathwork and visualization help kids deal with day-to-day challenges like test anxiety, and emotions like sadness or anger.
Yoga practice can also be self-empowering. "A lot of times a kid will say 'I can't do that, it's too hard,'" Henderson says. "We want kids to believe that they're kind, that they're strong, that they're courageous."
By working with them and encouraging them to try, kids are able to see what their own bodies are capable of and feel good about it. Yoga is an opportunity to reinforce positive messages about self, she says.
While kids develop self-respect and confidence, they also learn to work better with others and appreciate differences. This makes yoga an ideal activity for children with special needs.
---
Yoga for Kids With Special Needs
The key factor in inclusiveness is finding ways to modify or adapt poses so anyone can do them. "Yoga is for everybody and anybody,"
Weill says, whose passion for teaching yoga to children with special needs began when she lived in India. "I was inspired by seeing the results." For various kids, that's meant improved posture, better eye-contact and more self-confidence.
Henderson, whose two sisters have intellectual disabilities, has also made teaching yoga for people with disabilities a major component of her practice. She is adamant that yoga can be adapted for anyone but notes that individuals with mobility issues may need more helpers to assist them during their practice.
Sometimes she works one-on-one with clients so she can focus exclusively on their needs but when possible, she says, it's beneficial to all participants to integrate groups with people of varying abilities. For example, she saw the joy it brought to one little girl, who is deaf, when she could fully participate in a yoga exercise with her classmates during a fall party at Cotswold Elementary School in Charlotte. It was also meaningful for the hearing kids who helped communicate the goals of the activity to her through sign language, she says.
"[Yoga is] this beautiful message that says that people with disabilities are just part of the group," Henderson says. This message of inclusion and humanity may make the best case for choosing yoga for all children.
Liz Rothaus Bertrand has sheepishly dabbled in yoga in the past but now can't wait to strike a pose with her two kiddos, ages 4 and 7.