Middle School Camps: Discovering Passions While Building Life Skills
Specialized summer camps enable middle-schoolers to dive into an activity they love without school-year obligations.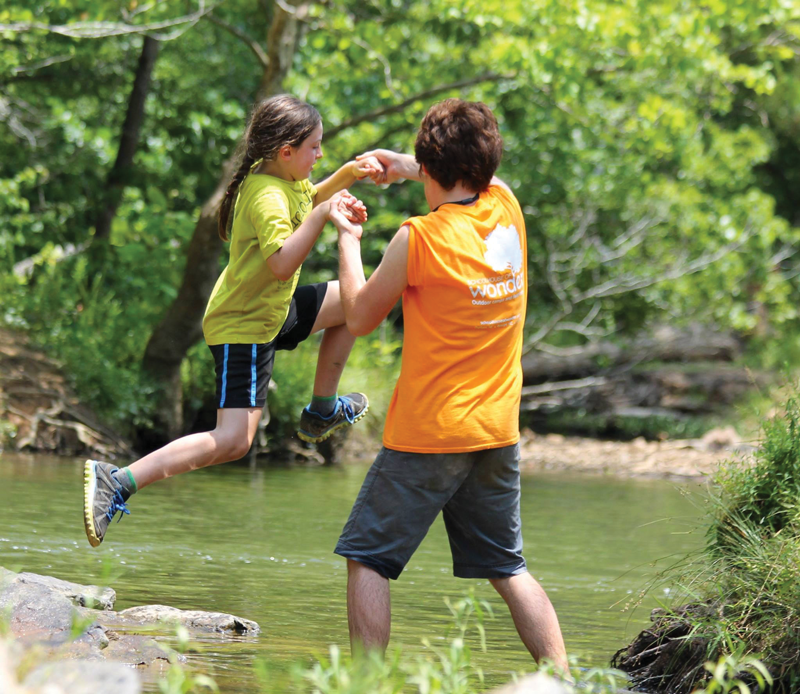 In middle school, kids often discover their extracurricular passions. From the arts and sports to robotics and outdoor adventure, specialized summer camp options enable middle schoolers to dive into an activity they love without school-year obligations. While refining their abilities or taking on new challenges at camp, middle schoolers also develop important skills that may help them later in life in unexpected ways.
The Group Effect
Camps that draw tweens and teens who share similar passions open up opportunities for collaboration and communication. George Ramsay and Dean Williams, owners of Bold Music launched their summer Studio Recording and Songwriting Camp to inspire young musicians. Ramsay says many students who take traditional music lessons are technically competent but lack the ability to play with others.
"What makes music exciting is feeding off each other," Ramsay says. "We want to encourage kids in middle school and high school to use their ability to play music … It's also a tool that helps you interact with people and collaborate."
By writing, recording and mixing original music together during the one-week intensive camps, kids learn the art of collaboration.
Learning to work as a team is also important at NC Elite Volleyball in Morrisville, a club that provides year-round opportunities for young athletes to train and compete at a national and/or regional level.
"In a team environment you have to work with people that you didn't choose to be with," says Director of Operations Micholene Schumacher. While NC Elite Volleyball's middle school camps focus on building skills to help players excel during tryouts, the club's culture emphasizes other aspects of being a good team member, such as communicating effectively and encouraging teammates.
By writing, recording and mixing original music together during Bold Music's one-week intensive camps, kids learn the art of collaboration.
Photo courtesy of Bold Music
---
Independent Thinking and Exploration
In addition to collaboration, personalized learning is an essential component of specialized camps. At TechTerra Education's summer camps, located in various areas of the Triangle region, students explore the natural world using science, technology and maker-space activities. They can focus on what interests them the most.
"In schools, pursuing one's passion and interest is not always the priority," says TechTerra Education founder and CEO Susan Wells. "Here, it is."
After 30 years of working in schools, Wells wanted her camps to be different. By keeping numbers small — 25 students per session with one instructor for every six students — TechTerra is able to offer a variety of stations the campers can rotate through during the day. Kids switch stations at regular intervals, using critical thinking and creativity to experiment with 3-D printing, robotics and more. Some campers choose to spend more time focused on a particular activity. Giving students control keeps learning "authentic and meaningful," Wells says.
Students who attend TechTerra camps explore the natural world using science, technology and maker-space activities.
Photo courtesy of TechTerra
---
Building Confidence
Choosing a camp organized by ability and age ensures middle schoolers are challenged and supported while trying new things. This can motivate them and help them build confidence.
Bold Music limits the number of participants in each of its sessions to ensure that everyone has enough time to contribute and shine.
"Middle school can be a little bit challenging with their social development," Ramsay says. "Getting kids together in a small setting — eight kids max — really helps them develop their confidence."
Kids who participate year-round in an activity are likely to see faster improvement and skill growth than those who only do it for part of the year. Schumacher cautions parents, however, to let their children's interest level guide the intensity of their participation.
"A lot of times parents want it more than their kids do and that makes me sad," she says.
Real Life Skills
A great camp experience can be transformative for teens, making an impact that extends beyond the program's specific subject, sport or theme. When middle schoolers choose a specialized camp, they are exposed to other educational aspects of the experience.
Wells knows most TechTerra campers will not become engineers, but she believes it's beneficial for all kids to learn to code, have access to technology and understand how the digital and natural worlds intersect. They need this knowledge to make sound ethical decisions as 21st-century citizens and consumers, and they may not have the opportunity to learn how to do this in school, Wells says.
At NC Elite Volleyball, camp participants learn their actions have real consequences. Developing simple habits like "shagging" (collecting) volleyballs without being asked, arriving first to the gym to help set up the nets and treating others with respect can play a critical role in coaches' selections of players.
"Everything that they learn in volleyball can be transitioned to real life, which is one of my favorite things," Schumacher says.
Developing Leaders
Many camps offer leadership programs for teens who are seeking a new challenge or their first professional experience. While counselor-in-training programs are widely available for high schoolers, some organizations extend the opportunity to older middle school-aged kids, too. Applications are typically due before March.
"Making the change from a camper at age 12 to a counselor-in-training at age 13 can be quite a challenging transition if they have been a camper for many years," says Wendy Tonker of Schoolhouse of Wonder, a nature-based, outdoor day camp with locations in the Triangle area.
At Schoolhouse of Wonder, staff mentors help participants develop their leadership style. As a counselor-in-training assumes new responsibilities, he or she builds self-confidence and starts seeing his or her position as a role model, Tonker says.
They also serve as invaluable resources to full-time staff. Since many are former campers, they provide insight into what makes the camp special and why they choose to come back each year.
"Some of these kids who have not perceived themselves to be leaders anywhere else can find a place here," Tonker says.
---
Liz Rothaus Bertrand is a freelance writer who lives in Charlotte with her husband and two sons, ages 5 and 8.