Inspiration and Adventure Await Families in Coastal Brunswick County
Introduce your inner child to your family at the beach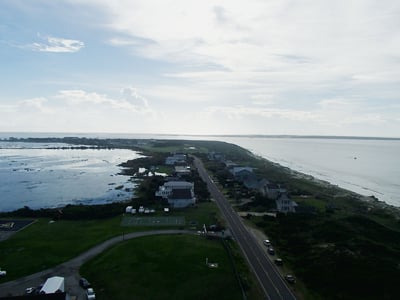 Embraced by warm ocean breezes and breathing in the heavy salt air, I curl my toes in the damp sand and magically shed a year's worth of deadlines, appointments, bills and other adult responsibilities. Then, when the clothes are unpacked and the guidebooks reviewed, I find the child in me and introduce her to my boys. The beach has a similar effect on many parents, which is why it is so often a top family vacation pick. From central NC, the coast's Brunswick County offers conveniently located, family-friendly venues sans the overly commercialized congestion of the bigger tourist spots up and down the Atlantic Seaboard.
Kindred Spirit Mailbox
What is so special about a mailbox? When it is miles from a postal route and people willingly walk — or ride a bicycle — a very long way along the beach just to reach it, you can bet there is good reason. It's been nearly 40 years since a local couple erected the Kindred Spirit mailbox on Bird Island. Since then, visitors have filled hundreds of journals with their innermost thoughts and wishes, hopes and dreams.
Be sure to bring a snack and plenty of water as you make your way down Sunset Beach toward the Bird Island Sanctuary. I'd recommend planning a picnic for the outing. As you journey toward the mailbox, you'll first spy an American flag waving proudly above it. When you arrive, you'll notice the bench with weatherworn carvings left behind by past visitors. And as picturesque and serene as the area is upon arrival, it is what's inside the Kindred Spirit mailbox that will amaze and overwhelm you.
At any given time, there are three or four spiral notebook journals and a handful of pens inside. Visitors are encouraged to read the journals as well as write their own, personal entries. Take the time as a family to read aloud some of the entries and then pass out the journals and pens and let everyone add their own inspired thoughts. Let the little ones in the family dictate their contributions.
Whether short and simple or pages long and detailed, every journal entry connects all visitors — from all corners of the world — in a unique way, as they are all kindred spirits who, for a few moments in the same beautiful place, shared glimpses into their souls.
And while you journey to and from this magical oasis, enjoy bird watching — don't forget the binoculars — and, later in the season, be on the lookout for turtle nests. Just be sure to leave the nests and the majestic sand dunes undisturbed.
Adventure
The slow pace of a beach picnic adventure can be relaxing. But some families demand a little more excitement on their once-a-year getaway. Shallotte River Swamp Park Adventure, a new addition to the offerings in Brunswick County, is for thrill-seeking families. With a focus on ecological education, the park offers a zip line tour, aerial adventure park and swamp boat tours.
Each activity provides visitors views of the beautiful trees, water and animals that make up the swamp ecosystem. Your family could encounter deer, turkeys, raccoons, owls and wild boar amongst the mighty 100-year-old cypress trees and reflective, black, glassy swamp waters.
Since I had never tried a zip line before, I opted to breathe deeply and make my kids proud by sailing through the air between ten stations spanning a mile and a quarter of cable. The butterflies in my stomach became more aggressive with every step we climbed toward the first landing. I was so worried about getting stuck in the middle of the cable and dangling helplessly over the swamp, I came in a little fast on my practice run. Not only do you practice before heading out on the actual tour, the first stop for every group is an instructional and safety class.
My initial fears gave way to sheer excitement by the time I was standing on the third platform. Not only was I proud for not nearly knocking over one of our guides, I realized we were always tethered to cables with our "Y" clips. Flying through the swamps, above and through the trees, the years melted away, and the kid in me kept screaming for more.
Lighthouses
The views from the zip line were extraordinary, so it was time to top the experience. What would a North Carolina beach trip be without a visit to a lighthouse? Brunswick County is home to both Old Baldy and the Oak Island Lighthouse, making it a great place to obtain your NC Lighthouse passport and begin your pilgrimage up the coast to visit them all.
When my boys were little, Oak Island Lighthouse was still off limits to the public. I took a picture of them near the old sign on the public side of the fence that kept visitors away from the semi-retired coast guard facility. Last year, I had the opportunity to climb to the top. Visitors are welcome now, but you may want to give some thought to which family members actually make the trek.
Since the Coast Guard designed it for efficiency, you must climb a series of metal ladders joined by metal grate landings to get to the top. Once there, the views will take your breath away; but the old rails on the lookout deck won't pass any playground safety inspections. You might want to leave the youngest family members — along with anyone afraid of heights or who suffers from bouts of vertigo — at the base.
After my zip-line adventure, I was able to power through the sweaty palms and a resurgence of angry butterflies to climb to the top. As I kept my back glued to the wall and took in every angle of a coastal view that will be painted in my memory forever, I felt strongly that "Y" clips could make great addition to this attraction.
So Much More
Brunswick County is also home to beaches such as Sunset, Ocean Isle, Holden, Caswell and Oak Island, which offer kayaking, fishing and all your typical coastal activities. Bald Head Island, home of Old Baldy Lighthouse, can be seen from Southport, which for decades has served as a backdrop for movies, such as "Crimes of the Heart" (1987), "I Know What You Did Last Summer" (1997) and "Safe Haven" (2013). Historical landmarks and museums abound. And the food, from freshly caught seafood to traditional Southern fare offered at restaurants such as The Provision Company in Holden Beach and Ports of Call Bistro in Southport — two of my personal favorites — will have you planning out your next vacation before you leave because there will be something else on the menu you'll want to try when you return.
For more information on all that Brunswick County has to offer, visit ncbrunswick.com.
Micki Bare is the associate editor for Piedmont Parent. She draws from her early childhood career, parenting and life experiences to feed her passion for writing. In addition to working for Piedmont Parent, she is the author of Thurston T. Turtle children's books, writes a weekly newspaper column and maintains a blog. She lives in Asheboro with her husband, sons, mother and a handful of pets.