How to Negotiate and Blend Family Customs for the Holidays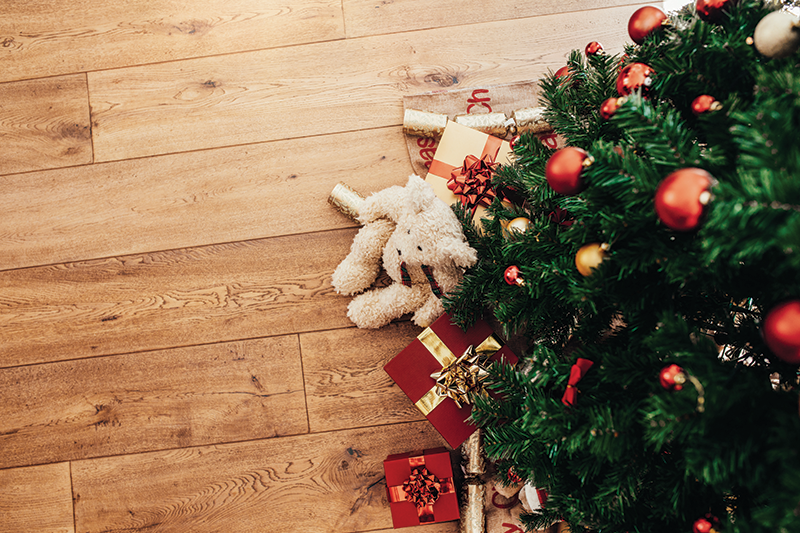 Every Christmas Eve, my husband and I discuss whether the presents from Santa should be wrapped. We've been together for so long, we're not sure whose family tradition we followed the previous year in that regard. We've decided that if we can't remember, neither will the kids, so everything has gone smoothly so far.
When a couple starts their own family, each person brings in childhood traditions. Merging these to create family traditions requires negotiation and planning. Here are a few ways to help your family navigate this blending process during holiday celebrations.
Make a Plan With Your Spouse
Charlotte residents Paula and Marcel Elsener celebrate cultural backgrounds and traditions from Sweden, Switzerland and America. One tradition important to the Elsener family is to stay at home on Christmas Day.
"We've always said from day one that we are not traveling on Christmas," Paula Elsener says. "It's about the kids; we want them to build Legos for hours if that's what they want to do." They do, however, extend an open invitation to the grandparents letting them know they are welcome to join the festivities.
"Communication and talking becomes key," says Michelle Deering, a licensed psychologist at Apex-based Curative Connections. "For the family unit, they are individually bringing their respective histories, and so the talking they need to do has to pertain to what traditions they liked and disliked, and then what desires do they have for the types of memories and messages they want their kids to have."
Deering recommends that couples take inventory of their childhood experiences. "It doesn't have to be done all at one time, but dribs and drabs of having that conversation will actually help them know what page they're on," she says. This helps a couple think intentionally about how they want their holidays to unfold.
Include Your Children
Children develop confidence and a sense of self through family traditions. It helps them know they are an important part of a unique family unit. Parents can include kids as young as age 2 in these traditions by making decorations, reading holiday books, teaching traditional songs and asking them about what they enjoy doing during the holidays.
"If you can start young, then you can make it age-appropriate," Deering says. "If you're talking with a 3-year-old or 4-year-old, ask if they like A or B?"
Take it a step further by asking the child to help choose holiday meal items at the grocery store or decorative items at a department store, then involve them in the cooking or in decorating the home.
The Elsener children — Tristan,15, Bjorn, 12, and Sawyer, 11 — decorate the tree and the house during the holiday season. They look forward to the Swiss tradition of Samichlaus, aka Santa Claus. He visits on Dec. 6 and fills their boots with oranges and nuts. Paula Elsener wasn't enthusiastic about upholding a tradition involving Schmutzli, "the dirty one," who comes with Samichlaus. As the legend goes, Schmutzli takes children away if they misbehaved throughout the year. Paula and Marcel chose not to emphasize this tradition for fear of scaring their children. Now that they are almost all teenagers, they have fun with the idea.
Be Clear
Some families look forward to traditions they have followed for one, two or more generations. Grandparents and extended family often want to continue these traditions, but when spouses come together, there may be a need to evaluate what works best for their immediate family.
Ditte Ranum and her husband, Hernando Gordils, live in Huntersville with their 5-year-old daughter, Victoria. They celebrate Danish and Venezuelan traditions during the holidays. Before their daughter was born, Ranum enjoyed her husband's Venezuelan traditions, but when Victoria was born, she wanted to make sure the family honored her Danish heritage also.
"I want to get my traditions in the picture," Ranum says. Gordils' family was happy to accommodate Ranum's request because she was clear about her needs.
Deering says listening to the needs of grandparents and extended family during the holidays can reduce hurt feelings and stressful situations. If you get requests for a special visit or an unusual change in the schedule, Deering recommends asking questions that may get to the heart of the issue: "What is it about this year that makes it important?" "How can we look at creative alternative options?"
"Everyone comes at this from different cultural perspectives and family dynamic perspectives," she says. "What I've found is that the real core root of the tension is that family members do not respect the new boundaries that each person has to develop on their own."
Deering tells her clients to use active problem-solving, and that if a wish can be accommodated, attempt it.
Ranum agrees, and enjoys the cultural variety her family celebrates. "It's important to embrace all the differences," Ranum says. "Let's make this our holiday, instead of 'this is what we've been doing for years.' Let's make it unique for our family."
---
Vanessa Infanzon is a Charlotte mom to three boys. Follow her @morethanVMI on Instagram and Twitter.
---
4 Quick Lessons in Holiday Etiquette
Aimee Symington, an etiquette expert in Charlotte and founder of Finesse Worldwide, suggests four ways to make celebrating holiday traditions fun and special for everyone.
Hosting guests. Share your traditions with your guests beforehand and ask if they have something special they'd like to do.
Prayers. If you pray before a meal and you're hosting guests in your home, ask your guests to join in the prayer. If you are in someone else's home, however, and they don't follow that same practice, simply do it silently on your own.
Holiday food. Ask guests to bring a dish that is traditional for their family. It's fun to share culinary dishes from different family customs and cultures.
Gift-giving. Get your extended family on board with a plan for gift-giving. Decide on who is getting and receiving gifts, as well as a spending maximum.