How To Plan An Out-of-the-Country Vacation For The Whole Family
Follow these tips for an international adventure you'll never forget.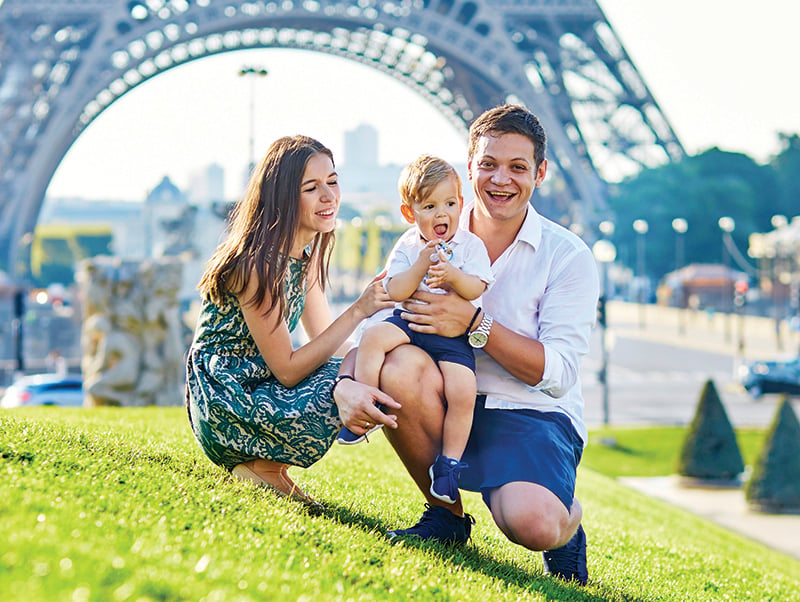 My son was 4 months old the first time he flew with us on an international flight to visit his French grandparents. Seven years later, and a half dozen more trips abroad with two kids, we've become much savvier travelers. These tips from local travel pros (along with some lessons I learned the hard way) can help you sit back, relax and enjoy your trip from start to finish.
---
All About Passports
You can't go abroad without one, and the passport process is time-consuming — so start early. First, make sure your passport is up-to-date. All travelers, even infants, need them to fly abroad. For children, both parents must be present (or provide notarized authorization) when submitting applications. Normal processing takes up to six weeks, but passports can be expedited in half the time for an additional fee. Most passport acceptance facilities require appointments weeks in advance, but certain locations allow walk-ups.
---
A Trip for Every Age
Michael Weil, owner of Magic Happens Travel and Cruises in Cary, urges clients to carefully consider the ages of their kids when choosing the kind of trip to take abroad. For young children, he recommends short, interactive excursions, an all-inclusive resort or cruises that provide a variety of kid- centric activities. If traveling with teens, Weil avoids booking early-morning tours so they can catch up on their sleep during vacation. Start planning several months out for the best prices and availability.
---
To Schedule or Not Schedule Tours?
Who wants to wait in line at the Eiffel Tower? Booking advance tickets to popular destinations can save you hours of time. Just be careful not to overdo it, Weil says. Many first-time travelers underestimate distances and exhaust themselves. Try to balance scheduled excursions with free time. Sometimes spending a couple of hours people watching from a café can be even more rewarding than racing to another museum.
---
---
Where to Stay
Hotel rooms, especially in Europe, are notoriously small. Short-term apartment rentals with kitchens can be found on airbnb.com or vrbo.com, and are great alternatives for families. Having your own space and the opportunity to enjoy family-style meals can help you save money and recharge during your time away from home.
---
Staying Safe
"Safety concerns are very important to be proactive with as well as to understand," Weil says. Check the Center for Disease Control and Prevention and U.S. Department of State websites for information on potential health risks — like Zika for pregnant women — or political instability in regions you're visiting. You can also learn whether you need any vaccinations or visas, and you can register your trip in case of emergencies.
---
Pack Light, Essentials Included
Herbert Judon, assistant aviation director of operations for Charlotte Douglas Airport, flies all over the world with his own kids, ages 8 and 10, but it was a trip to Paris that transformed their packing technique.
"We made the mistake of having four large bags," Judon says. That turned a routine train-transfer from Charles de Gaulle airport to Disneyland Paris into a virtual nightmare." If you plan on walking — even to your hotel — (that) may dictate how you pack, especially with small children."
Do take comfortable walking shoes, sunblock, a hat, insect repellent and rain gear. Plan to dress in layers to deal with temperature variations, but remember clothing can be worn and easily washed even while traveling.
---
Liz Rothaus Bertrand lives in Charlotte. She loves to travel and write about her adventures.
---