Exploring The North Carolina Arboretum in Asheville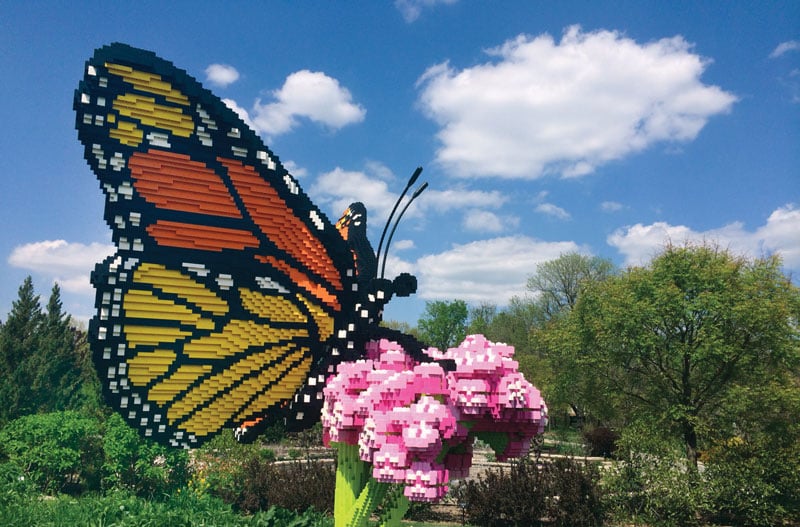 Fall is my family's favorite time to explore North Carolina. Sometimes we are in search of apples or pumpkins; other times, rivers or lakes. This time our adventure led us to The North Carolina Arboretum, a 434-acre botanical garden just south of Asheville.
We started our day with a picnic lunch, and then walked through the gardens and exhibits for at least two hours with our boys and their grandparents. The paths are wide and accessible, making it easy to maneuver our son's wheelchair. Benches provide places for a short rest, and the artistically designed arbors offer shade. Winding paths are a perfect place for children to explore the fountains and small ponds, and our boys found a large frog under a bridge.
---
Trails and Activities
The arboretum has more than 10 miles of hiking trails. Twelve different trails range from easy to difficult, with distances ranging from one-third of a mile to more than a mile. Some of the trails connect to Lake Powhatan, the Pisgah National Forest and the Blue Ridge Parkway. Seven of the trails are also bike trails.
On Mondays and Tuesdays, the arboretum offers the Wee Naturalist program from 10-11:30 a.m. for children 2-5 years old. The hands-on class features nature walks, stories, crafts and live animal visits from the arboretum's classroom critters.
---
Gardens and Exhibits
The property has several permanent gardens that offer a unique look at plants, including the Quilt Garden, Bonsai Exhibition Garden, Heritage Garden, Stream Garden, Forest Meadow, Plants of Promise Garden, the Cliff and Betty Dickinson Holly Garden, National Native Azalea Collection, and Rocky Cove Railroad. Water features and unique design make each interesting.
Rocky Cove Railroad was one of our favorite exhibits. It is a garden-scale model train that represents western North Carolina at the turn of the 20th century. The train is open Saturdays and Sundays from noon-4 p.m.
There also are special exhibits throughout the year. Nature Connects® Art with LEGO® Brick is on display through Oct. 23, and includes artist Sean Kenney's praying mantis, bald eagle and monarch butterfly all made of LEGO bricks. The World of Giant Insects runs now through Jan. 8, 2017 inside the Baker Exhibit Center. The exhibit features six giant-size robotic insects, interactive displays and educational elements.
---
Things to Know
There is no admission fee, but parking is $12 per vehicle. If you have an American Horticultural Society membership or membership to Daniel Stowe Botanical Garden, the parking fee is waived. There are no other admission costs once you are inside the gardens.
There are no designated picnic areas, but there are plenty of grassy areas to spread a blanket for a great old-fashioned picnic. If you prefer not to bring your own food, Savory Thyme Café offers sandwiches, soups and salads made from locally sourced organic and natural ingredients, plus homemade cookies and brownies with gluten-free options available.
The main garden areas are wheelchair accessible. Wheelchairs may be borrowed at no charge at the Baker Exhibit Center and Education Center.
The property is open 8 a.m.-9 p.m. through October. Winter hours are 9 a.m.-7 p.m. beginning in November. Most of the exhibits are open from 9 a.m.-5 p.m. GPS directions are often unreliable. Use the directions available on the website: ncarboretum.org.
Vanessa Infanzon is a freelance writer and Charlotte mom to three boys.
Follow her on Twitter and Instagram
@morethanVMI.